Date added: 27 May 2010
New law and accountancy expertise for Swindon
Major appointments made at Monahans and Clark Holt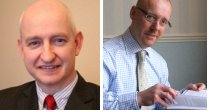 New roles:
Peter James has become
partner at Clark Holt and
Geoff Don Director of Tax
Consultancy
Services at Monahans
Two of Swindon's biggest names in accountancy and law have made major appointments.
Peter James has joined Old Town legal firm Clark Holt as a partner, and will specialise in intellectual property as part of their expanding commercial department.
Geoff Don has been promoted to Director of Tax Consultancy Services at Monahans Chartered Accountants in Newport Street, with particular skills in tax issues facing owner managed businesses.
"We are delighted with Geoff's contribution to the Tax Consultancy team," commented Dominic Bourquin, the partner in charge of Tax Consultancy.
"He is an invaluable resource and this is reflected in his promotion to Director in what is an exciting period for Monahans. He provides clients with practical solutions to highly complex technical issues and they rate Geoff's advice and experience very highly.