Date added: 12 June 2010
'The Special One'!
England fans on the road to World Cup glory with smart of Swindon
Smart of Swindon has proved to be on the ball by providing England football fans with the opportunity to show their true colours during the forthcoming World Cup and beyond.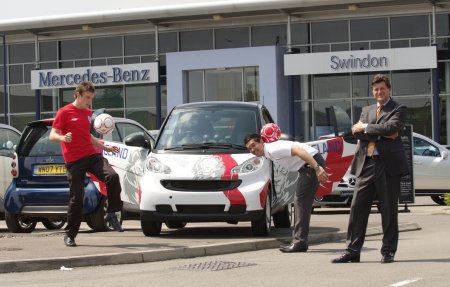 members of the smart of Swindon team (left to right): Ben Pulham, Damien Walker and Mike Fellows
The Drakes Way retailer has prepared for the tournament kick-off this Friday by creating their own special edition car, which they're confident that any ardent England supporter will be keen to net.
Nicknamed 'The Special One', the striking smart fortwo pulse model was the idea of Sales Executive Claire Wright and its striking design features the Cross of St George as well as the famous three lions.
Mike Fellows, Managing Director of Mercedes-Benz and smart of Swindon, said: "We're fully behind England and wanted to capture the mood, excitement and fun surrounding the 2010 World Cup in South Africa.
"'The Special One' is our unique tribute to this fabulous footballing festival and is a car that is certain to provide any England fan with plenty of kicks of the automotive kind."
Smart of Swindon's 'Special One' is available for £10,750 and includes a couple of extra special features as standard – namely an England shirt and football.
For further information or to arrange a test drive, please call Claire Wright on 01793 756666
World Cup Swindon
Big screens, booze and Brazilian takeaways - kick-off your World Cup right here...