Date added: 19 July 2010
Just the job!
Recruitment company celebrates Swindon job-seeking seminar success
Jackie Kerr Recruitment had an evening of celebration last Wednesday in Swindon, when job seekers and professionals who had found work by attending the Jackie Kerr Seminars joined together to network and share experiences.
Jackie Kerr has been working in partnership with the DWP/Job Centre Plus helping unemployed professionals back into the workplace since July 2009 and many of these professionals attended the evening along with local employers and representatives of the Swindon Job Centre to share their success stories.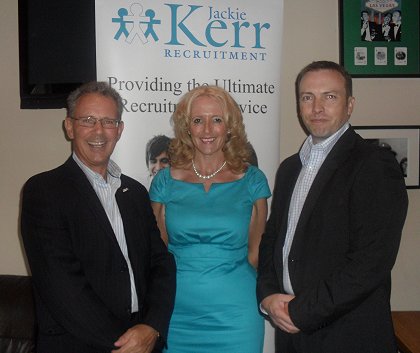 Jackie Kerr alongside Paul Day (left) and Mike Taylor
"I canít thank her enough," commented Paul Day, who decided to start his own business after attending one of the seminars.
"I met Jackie not knowing what to expect but after she talked me through all my career options I found it really motivating. And when I decided to start my own business she gave me ongoing support and leadership."
Others to talk included Mike Taylor from MBS Training, who gave a thought provoking speech concerning vision and focus was when looking for work.
Assisiting over 500 job-seeking professionals
Jackie and her team have been assisting over 500 Job seeking professionals in their quest to find that ultimate job and in many cases start their own businesses.
The seminars cover areas such as:
- Career Advice and Changing Direction
- Networking to find that ideal job
- CV Writing
- Interview technique and role play
- Making contact with the future employer
- Employment Agencies Ė how to get the best from them
- Job Applications
- Closure to get that ultimate job offer
To help job seekers and local businesses, Jackie and her team will be holding another event on the
20th October 2010.
Those interested in attending the seminar should contact Jackie Kerr Recruitment via the link below or call 01793 762026.
Working In...
Everything you need to know about working in and around Swindon...