Date added: 10 August 2010
Backing Young Swindon
Swindon businesses sign up for Plan 500
A new initiative aimed at helping young people realise their potential and improve their workplace skills was launched today.
Plan 500 is looking for businesses that can offer work experience, apprenticeships, mentors to help with next steps, better qualifications and diplomas.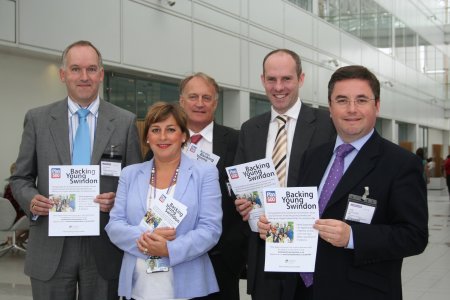 (l-r) Rod Bluh, leader of Swindon Borough Council, Rikki Hunt, head of SSEP, Caroline Hallatt, head of corporate responsibility, Nationwide Building Society
Justin Tomlinson Conservative MP North Swindon
and Robert Buckland Conservative MP for South Swindon
"Young people are so important in Swindon's economic future," said Rikki Hunt, head of the SSEP, who have devised the scheme.
Those already signed-up include Nationwide Building Society, Swindon Borough Council, New College, inSwindon and Forward Swindon.
To sign-up, visit the Forward Swindon website via the link below...
Working In...
Everything you need to know about working in and around Swindon...

Apprenticeships in Swindon
High quality, work-based training programmes that benefit both the employee and the employer - B2B GUIDE...

Nice paint job!
Praise for Swindon graffiti gang as railway museum transformation gets under way....

02 October 2008