Date added: 22 October 2010
Tough - but better
Business leaders comment on the future of Swindon post-cuts
The people running Swindon's key businesses and organisations met today to discuss the future of the town just days after the national and local spending reviews were announced.
The Chamber of Commerce organised forum was held at the Marriott hotel and included presentations on various sectors and talk by Geoff Harding from the Bank of England.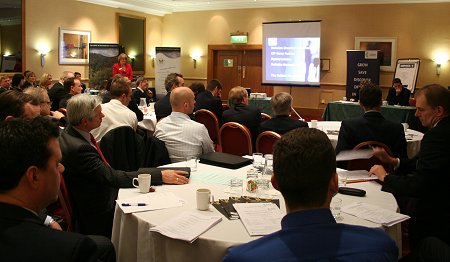 Looking to 2011 and beyond:
the Swindon Business Leaders' Forum
Views on the future of Swindon from the new Interim CEO of Forward Swindon and Councillor Garry Perkins, Swindon Borough Council were also heard.
WATCH OUR SWTV VOX POP OF OPINION above featuring those representing the public sector, commercial property, banking, education and manufacturing.


Speaker Panel:
Geoff Harding
Deputy Agent (South West region), Bank of England
The outlook for the UK economy & inflation
Steve Hughes
Policy Adviser, British Chambers of Commerce
Spending Review: Response & implications for business
Cllr Garry Perkins
Deputy Leader, Swindon Borough Council
The outlook for Swindon
Ian Piper
Interim Chief Executive, Forward Swindon Forward Swindon Ltd – Localism in Action
Hazel Lobo
Senior Partner, 3rdi All aboard the Green Express – a whistlestop guide to the 5 environmental regulations every business should be aware of.

How to be LEAN - and GREEN
Fast Forward forum aimed at Swindon businesses looking to grow and save money during the economic recovery - 04 JULY...

14 June 2011