Date added: 06 November 2012
Having an office Christmas party?
Take care letting your hair down, says Peter Jones of the HR Dept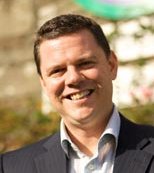 Peter Jones:
HR Dept. Swindon
The Christmas party still remains a strong tradition amongst small and medium sized business (SME'S) customers of The HR Dept, a national outsourced HR business.
In a recent survey 59% of The HR Dept SME customers surveyed stated they would holding a Christmas party in some form.
Despite the past couple of years being particularly economically challenging and businesses looking to match austerity measures felt by the country, the Christmas party season is nearly upon us.
Newspapers and blogs fill with stories of the tales of the Christmas party night and would make any business owner wince if it happened anywhere near their own organised Christmas party.
Given the stories about Employers being liable for third party actions at events, grievances against members of staff who act inappropriately and the token photocopying body parts story or not asked for kisses under the mistletoe, the Christmas party can leave an unwanted legacy and a cost.
Extension of the workplace
Peter Jones, Director of The HR Dept Swindon advises that "though letting your hair down may seem like a good idea, many firms shy away from providing open bars or organising pub crawls in the modern times because of the religious sensitivities and potential HR issues that can come from the party with too much alcohol involved, whether the behaviour of people or even how they get home.
"The key is to always remind your staff that a Christmas office party is still an extension of the workplace; normal rules about behaviour still apply."
Though Santa traditionally delivers presents, it appears this tradition is not continuing in the workplace as nearly two thirds of SME's surveyed, decided against buying gifts for their staff. With the rise of office 'secret Santa's' and a potential focus on a staff party as a reward, it is not unsurprising that many employers are deciding against presents.
£150 per employee allowed
70% seem to be aware that you can spend more money per head on a party itself than buying gifts at certain higher values and making it deductable to HMRC for both employers and employees.
Peter clarifies that "the basic position is that employers can spend up to £150 per head on annual staff events without it being treated as a taxable perk incl. food and such things as a taxi home."

Cue the inevitable HR and legal policies about behaviour at Christmas parties, but remember, if managed properly, it can be a great high to end the year on, whatever the economy and of course the cold winter weather.
New Employment Legislation
Minimum wage, retired age, equality rights and maternity leave all set to change, writes Peter Jones of the HR Dept...

09 September 2010

Teamwork is the goal!
We ask Peter Jones from The HR Dept. Swindon his advice on how to handle employee requests during the World Cup...

28 May 2010

Working In...
Everything you need to know about working in and around Swindon...