Date added: 21 January 2010
How to set effective goals
How to make the best business start to 2010
The second in a new weekly series of articles for SwindonB2B by Swindon author, writer, coach and trainer Gail Gibson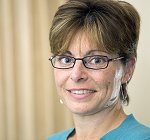 How to Set Effective Goals
When each New Year begins are you often asked one particular question, "What is your New Year resolution?" Many people make resolutions as a focus to start the year; to make a change in their life, to do something differently, or to do one thing more or less often than before. Could a New Year resolution be likened to a goal?
Setting effective goals is an important aspect of any business. Why? When you set a goal you have a destination in mind. A goal is the difference between where you are now and where you want to be. Then how you reach your goal involves putting a series of steps in place. Each step is an objective or a milestone you need to achieve to help you accomplish your goal.
Here are 5 tips to help you set goals:
Write a list of goals

. Include short, medium and long term goals e.g. 3 – 6 months, 1 year and 5 years. Planning goals at different intervals creates flexibility and puts them within reach.
Focus on

ONE

goal at a time. Get really good at one thing at a time. Once you have "taken a step" i.e. achieved your goal move onto the next goal.
Take bite sized, easy to digest chunks

. Because you can't eat the whole elephant all at once!
Commit to making a success of each one of your goals

. Set yourself a goal to dedicate one day per week to market your business. Use this day to concentrate on writing an article, creating a newsletter or making changes to your website.
Start with a goal and work backwards

. Understand what you wish to achieve and think about how you can achieve it.
To help you realise your goals and achieve the results you desire set yourself SMART objectives:
S

pecific – be clear and definite

M

easurable – consider time, quality, quantity, money and standards

A

chievable – are they within reach?

R

elevant – to your business, marketplace, and customers

T

imed – a start and end date with review points along the way.
Written by Gail Gibson of True Expressions
Discovery, Change, Transformation
Do You Care?
Our Swindon business advice column with Gail Gibson...

To CC or BCC?
Our Swindon business advice column with Gail Gibson...

Lost At Sea?
Our Swindon business advice column with Gail Gibson...

A Mentor or Coach?
Our weekly Swindon business advice column with Gail Gibson...

27 May 2010

Making Connections
Local business author celebrates first book launch + WIN A COPY...

23 March 2010

Get Connected with Networking
The third in a new weekly series of articles for SwindonB2B by Swindon author, writer, coach and trainer Gail Gibson...