Modern Apprenticeships
What modern apprenticeships are all about and - just as important - what they are not



If you think modern apprenticeships have much to do with a certain programme featuring Sir Alan Sugar... you're fired!
Neither are they the same as the classic apprenticeships that were familiar to the post-War generation.
And they are even further removed from the historic model of Dickensian apprentices being bonded to unscrupulous employers like Ebenezer Scrooge.
We'd better start again...
If you want to know what apprenticeships really are, then the best person to ask in Swindon is probably Sinclair Brown, Business Services Manager of Fast Forward, the Business Services division of New College, who offer training and development solutions for businesses, including apprenticeships, NVQs and professionally accredited qualifications such as PRINCE2, ILM, CMI and CIPD courses.
Rather than being at the mercy of an autocratic boss with the power to fire on a whim, as portrayed in the TV programme, apprenticeships actually provide the steadiest of frameworks on which to build a mutually beneficial relationship between employee and employer.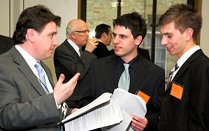 Apprentices learn for between
one and three years, emerging
with formal qualifications and
And there is another key difference between today's apprenticeships and those of the past, including those involving Swindon's workforce in our father's and grandfather's generations.
Over many decades, it was a tradition for apprentices at Swindon's giant Railway Works to be dismissed as soon as they completed their indenture.
Then, after the Second World War, things turned full circle and, far from dismissing ex-apprentices, British Railways were anxious to retain their newly qualified apprentices.
But they found they were losing their best young workers to the better-paid car industry and thriving light engineering firms - the likes of Plessey and Garrard.
As Sinclair points out, this experience still colours employers' perception of what apprenticeships are all about.
"The real value in apprenticeships is that staff are trained to the exact standards of the company in which they are employed, and they become immersed in the business culture. The training leads to a recognised qualification, but it's tailored to the individual organisation's needs.
"Enlightened employers have realised they should not be seen as a means to an end, but rather the beginning of a long-term partnership. A key aspect of apprenticeships is these days they actually produce better staff retention, not worse."
This is because apprenticeships are based on three main strands of learning that provide technical training, functional skills and a 'competence-based element'.
Apprentices learn for between one and three years, emerging with formal qualifications, but they also gain valuable work experience, delivered through mentoring.
Rather than seeing this as a stepping stone to greener fields, many apprentices realise it is the first step on an upward route through the company, and they usually see the apprenticeships as a way of opening doors inside the firm, rather than a passport to pastures new.
Opening doors


Many employers also fail to realise that apprenticeships can now be offered across a much wider range of occupations and business sectors.
As if to underline the point, New College don't just help employers organise apprentices and help train them - they actually take on their own apprentices.
"It just goes to show that the traditional idea of apprenticeships being just for car mechanics and plumbers is out of date," said Sinclair.
"At the last count, there were nearly 200 different apprenticeship frameworks available nationwide, covering 80 sectors, from accountancy to care work - and business administrators in colleges!
"It's a vast field, which is reflected in the many different apprenticeships that we deal with, here at Fast Forward. At the moment, we provide services to employers and employees for apprenticeships in accountancy, business and administration, childcare, customer services, food and drink service, health and social care, hospitality, IT, retail and sport and leisure.
"If you thought apprenticeships are primarily for would-be engineers and hairdressers, you should talk to us."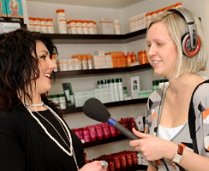 there is an even split between
men and women in apprenticeships
And there are yet still more myths to be busted about what apprenticeships really are.
Another traditional notion - that apprentices are almost always male - also turns out to be far from the truth.
A survey undertaken by the TUC in 2006-7 showed there was an even split between men and women in apprenticeships.
Neither are apprenticeships confined to young people who are just out of school or college, even though viewers of The Apprentice could be excused for thinking so.
You are effectively never too old to become an apprentice, and neither is he or she necessarily an outsider being freshly recruited to a new post.
A growing number of apprenticeships now come about because employers are re-evaluating their workforce, creating new apprenticeships to support existing jobs and finding able candidates from among their existing workforce.
Changing attitudes

It's part of the changing attitude and approach to training in general which, surprisingly, is partly being driven by the current economic climate, as Sinclair explained.
"Wise employers are now waking up to the idea that training can be used not only to improve the quality of your workforce, but also to motivate it.
"Employees value good quality training - of which apprenticeships are a good example - so when times are hard and earnings might be capped, they see any kind of positive training as an incentive.
"They know they need more skills to ensure they stay employable, and you could say that training - especially in the form of an apprenticeship - is giving them a benefit that money can't buy.
"Most employees can see the benefits of apprenticeships clearly, and they are usually obvious. But employers sometimes need a bit more persuading, and we often find it's because of a view built on myth and misconception.
"Some are even unaware that
the cost of apprenticeships can be partly or wholly borne by the government
- currently 100 per cent for 16-18-year olds and 50 per cent for those aged 19-24.
"There really is something in it for everybody, and far from the economic climate being a reason for employers to put training on ice, it's all the more reason to look more closely at the opportunities that schemes such as apprenticeships give to both employer and employee.
"There's much more to apprenticeships than many people realise, and both employers and employees should talk to us about what's on offer."
More information is available via the links below.
Apprenticeships in Swindon
High quality, work-based training programmes that benefit both the employee and the employer - B2B GUIDE...