Date added: 20 April 2011
Juice The Job!
B&Q site apples used for Highworth Business Group community project
Workers on Swindon's biggest-ever building received a thirst-quenching thank you yesterday - a juice drink made from an on-site orchard they donated to the Highworth Business Group [HBG].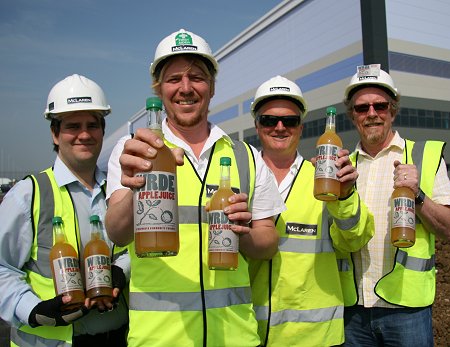 McLaren's Gareth Peebles (second left) alongside colleague Ben Curtis and Highworth Business Group's Steve Silk and Denis Thurley (r)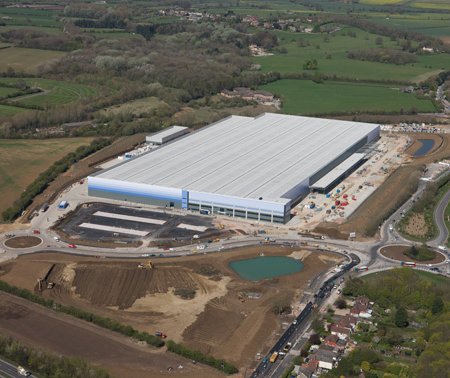 The developers of G. Park in Stratton allowed the HBG to use apples from trees they had to clear in order to contruct what is soon to be the regional distribution centre for B&Q.
Nearly two tonnes of apples were eventually gathered - with McLaren even helping out with a digger to help shake the trees.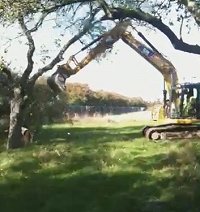 The much-needed fruit all helped to produce 300 gallons of cider, 50 gallons of perry and 150 litres of non-alcoholic apple juice, bottles of which HBG chairman Steve Silk and Denis Thurley handed over as a 'thank you' to site staff.
"It was a pleasure to help them," said McLaren site manager Gareth Peebles.
"We've now embarked on a big re-planting project to replace the trees we unfortunately has to take down, but they won't be apple trees, I'm afraid. This juice is most definitely a special G. Park one-off!"
Plans are now afoot to make the HBG Wrde apple juice a regularly available product. The team are currently planning 2011 production and distribution for the 2010 Cider and Perry which should be ready in June and available to buy in Bloomfield's in the High Street.
Anyone wanting further information about the project and particularly anyone keen to volunteer and learn about Cider production, can contact Denis Thurley of Highworth Business Group on 01793 862000 or
info@highworthbusinessgroup.co.uk
Art On The Menu
Highworth hotel and restaurant proves ideal for local art exhibition...

13 May 2011