Date added: 22 May 2011
Getting People Back To Work
Jackie Kerr Recruitment awarded for jobseeker help and commitment
Jackie Kerr Recruitment were proud and honoured to accept the runner up award for Service to the Community at the Wiltshire Business Awards this month.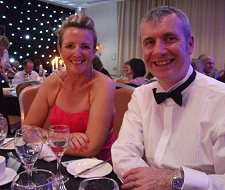 Jackie and her team were awarded for their dedication and commitment to assist jobseekers to get back to work by holding voluntary one-to-one consultations, seminars and regular networking events.
In n total, her company has assisted over 800 jobseekers to find employment by offering new and innovative strategies to be competitive in the job market.
Motivational help, coaching and support to individuals in the current economic climate is also offered.
The Networking Events have included guest speakers, coaches and local employers to give advice and guidance.
Jackie Kerr Recruitment will be holding their next free 'Back to Work' Networking Event on Wednesday 29th June, 7.30pm at The Highworth Hotel, Highworth.
If you are looking for work or want to book your free place for the Networking Event, please call 01793 762026.
Finding The Right People
Are you asking the right questions when you interview a potential employee? An in-depth guide with Jackie Kerr...

Working In...
Everything you need to know about working in and around Swindon...