Date added: 09 June 2011
Key milestone in getting young people back to work
Local employers to be addressed by Nick Hewer from The Apprentice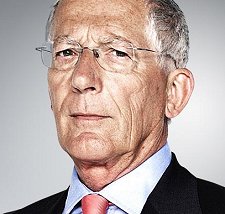 Guest speaker:

Nick Hewer
Alan Sugar's well-known right-hand man will address a business breakfast this month to celebrate a key milestone in getting young people back to work in Swindon.
Plan 500 was launched in August 2010 with the aim of encouraging businesses to offer work experience, apprenticeships and mentoring to 18-24 year olds.
And to mark the creation of 250 new opportunities for young people, Nick Hewer from BBC's The Apprentice is the guest speaker at a gathering of local employers at the
STEAM Museum on 29 June.
Speakers also include Bill Cotton, Director of Economic Development, Forward Swindon and Steve Blore, Chairman of Plan 500.
Local employers who wish to attend should contact Lisa Smart on 01793 612276.
Born and bred in Swindon, Nick Hewer grew up in Old Town as one of five children.

His father John, who unfortunately died earlier last year aged 95, was a well known vet for over 30 years as The Grange Veterinary Surgery, now the Drove Veterinary Hospital.
Hewer first became a trusted adviser to Alan Sugar after his PR company represented Sugar's company Amstrad in 1983.
Working In...
Everything you need to know about working in and around Swindon...

Apprenticeships in Swindon
High quality, work-based training programmes that benefit both the employee and the employer - B2B GUIDE...