Date added: 05 July 2011
Reducing Costs & Carbon Footprint
Fast Foward business forum explains the benefits of being green & lean
The subject of how to grow and save money during the economic recovery was the subject at the latest business forum at Fast Forward last night.
The
"Lean & Green Business Forum"
included guest speaker and industry expert
Mark O'Neill
, who shared his thoughts on best practice and offered tips on practical ways to reduce business costs as well as carbon footprint.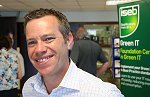 Mark, in conjunction with the BCS, has been responsible for creating the first formally accredited training course for Green IT – the Foundation Certificate in Green IT (
www.bcs.org/greenit
).
Business courses & apprenticeships

The topic of efficiency and productivity benefits, as well as recruitment savings, when companies employ an apprentice was also discussed.
Daniel Knapp was on hand to talk about the benefits he has experienced two years into his own apprenticeship, which was arranged with Aligra Personnel through Fast Foward.
"The feedback from those who have attended has been excellent," commented Sinclair Brown, Business Services Manager at Fast Forward.
"We organise these free forums to help provide ideas and information for businesses looking to expand in the most efficient way."
More information on the services offered by Fast Forward, the business arm of New College can be found below.
Lean & Green Business Forum
Fast Forward, New College
04 July 2011
Perfect your pitch
New sales qualifications now on offer with Fast Forward - STARTS 14 SEPT...

22 July 2011

Apprenticeships in Swindon
High quality, work-based training programmes that benefit both the employee and the employer - B2B GUIDE...