Date added: 30 September 2011
Basepoint Open Day
Well-Being bonanza shows off services at West Swindon business centre
Basepoint Swindon have hosted a public 'Well-Being Bonzana' event offering visitors the chance to get tips and advice on anything from looking and feeling good, perfecting their running technique, diet advice and free chiropractic screenings.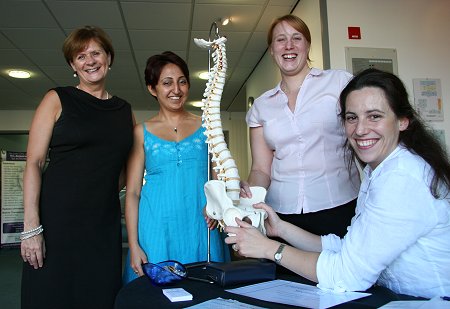 Lyn Chapman, manager of Basepoint Swindon (l) with Su Bhagi from EnerQi and staff from Chiropractic Health based at the centre
Lyn Chapman, centre manager at Basepoint Swindon prides herself on supporting the companies based at the centre.
"We have so many like-minded businesses located at Basepoint Swindon offering complementary services that hosting an event like this seemed like a great way to raise awareness of what they do in the local area."
Basepoint Swindon offers unfurnished office and workshop units across three buildings with a full-time reception, licensee's breakout area, meeting rooms and free car parking. All units are Cat 5e wired with state-of-the-art digital phones and superfast broadband.
Located at Westlea, Swindon, the centre offers easy access to Swindon town centre and J16 of the M4 motorway.
For more information, please contact the Basepoint team on 01793 608800.