Apprentice Champion
Why Valerie Bateman is so passionate about the apprentice programme in Swindon
Swindon has gone from the top to the bottom of the apprenticeships league – but there has never been a better time than right now to reverse the trend again.
That's the message from Valerie Bateman, Administration Manager for Fast Forward, the Business Services Division of New College and probably the greatest champion of apprenticeships in the town.
After supporting more than 800 apprentices during her career, she has become passionate about the value of apprenticeships to employer and employee alike – and ultimately to the whole town.
"Amazingly, Swindon has the lowest number of apprenticeships in the whole of the country," said Valerie, "despite all the different industries in town. It has to change."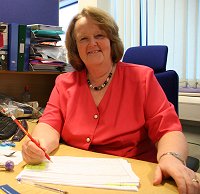 "Apprenticeships are a win-win
for employers and employees"
Historically, Swindon once boasted more apprenticeships than comparable towns, especially in the Sixties and Seventies when there was an overlap between the still mighty railway industry, the growing car industry and thriving light electronics and engineering firms.
Why apprenticeships fell out of favour locally is unclear, but it's certainly at least partly historic and due to old-style arrangements causing problems with staff retention, which is no longer an issue.
But Valerie now believes local firms are missing a trick.
"There seems to be a lack of understanding about the benefits that apprenticeships can bring," she said. "They really do produce a win-win situation and work for firms of all sizes, from the very small to the very large. From the employer's point of view there are massive savings to be made, but they often just don't realise it."
Apprenticeships, for example, provide benefits in unexpected areas such as recruitment.
"Firms don't realise they can advertise for apprentices for free, and Fast Forward can even help them with the selection process. Whichever way you look at it, there are huge benefits on both sides and – now more than ever – apprenticeships are the way forward for so many businesses."
That includes what Valerie calls "the softer skills". Whereas many people think of traditional apprenticeships in such fields as plumbing and hairstyling, these days they can be made suitable for virtually any kind of skill or trade.
As if to underline that they practise everything they preach, New College took on two apprentices of their own last year to work in business administration – ironically to help the Business Services section encourage and provide support for more apprentices across town.
Both were so successful that they moved on to more senior posts that they were offered even before they completed their year-long apprenticeship.
Two more - Frank Ratajczak and Leigh Foster – have been recruited this year to work alongside Valerie and her team.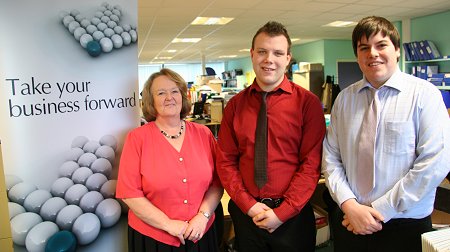 Choosing the apprenticeship route:
Valerie Batemen alongside New College apprentices Frank Ratajczak and Leigh Foster
"They have settled to the job well and they are a good example of how apprenticeships work," said Valerie. "They are both capable of seeing out a university education but have chosen the apprenticeship route instead, in order to gain real experience.
"When we interviewed them they stood out as being keen and eager to learn, but also because they saw the apprenticeship as a springboard to greater things, further down the line.
"In my experience, young people going into apprenticeships really want to work and want to learn, and we are here to help firms help them release their potential."
But does all this still hold water in the current economic climate?
Valerie is in no doubt, and actually believes there is more reason than ever to look at the apprenticeship option – whether you are an employer or a potential employee.
For a start, it's more economical to employ an apprentice and nurture him or her in a way that is tailored to the company's needs, rather than employ a graduate who will expect a graduates' salary and be less inclined to play a junior role as a newcomer.
And with changing policies on further and higher education, all employers need to reassess.
"We are going to have the situation where there will be some very bright kids who can't go to university because they can't afford it," explained Valerie. "So employers need to start looking at employing them earlier.
"I am certain that if they take a fresh look at what apprenticeships offer, lots of employers are going to find apprenticeships are the future.
"And that goes for Swindon at least as much as anywhere else."
For information and advice about apprenticeships, contact Valerie Bateman, Administration Manager, Fast Forward, Business Services Division of New College, on 01793 611470 or email
valerie.bateman@newcollege.ac.uk
Apprenticeships in Swindon
High quality, work-based training programmes that benefit both the employee and the employer - B2B GUIDE...