Date added: 30 November 2007
Mercedes Benz party a real Triumph
Stars turn out for Swindon Supermarine
With diamonds, cars and classy underwear, it was glitz and glamour all the way last night, as the Mercedes Benz garage at Greenbridge played host to an action-packed party in conjunction with underwear giants Triumph.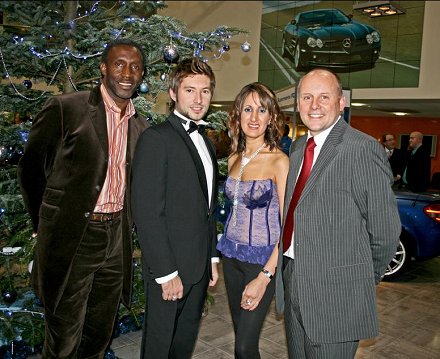 Linford Christie, Dan De Bourg, Mindy Mondair,
Marketing Manager of Triumph, and Mike Sands,
General Manager of Mercedes-Benz of Swindon
Athlete Linford Christie, who is also a Triumph ambassador, was there to entertain guests along with models from Triumph's classy Valisere range.

The event was held in support of Swindon Supermarine FC, who are sponsored by Mercedes and Triumph, but also offered a great opportunity for a Christmas celebration.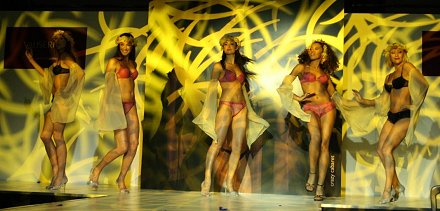 the Valisere models on the catwalk

Aside from the underwear-clad models who performed a spectacular fashion show and served drinks to guests all evening, entertainment also included X-Factor singer Dan De Bourg, who was recently voted off the show.

A number of other local businesses also took the opportunity to promote their services and products, including Burdens Electronics, Ice Lily and John Anthony.
Mel Turner-Wright

Triumph Fashion Show 2007 - 30/11/2007
Street Athletics 2013
Ever wondered if you could beat Linford Christie in a race? Well now's your chance to try! - 28 JUNE

Big Game Build-Up
Collier pleased with preparations as Supermarine players are told: 'Enjoy it!' - WATCH SWTV INTERVIEWS...

£1 for a Mercedes?
Prospect Hospice join forces with Mercedes-Benz of Swindon for their 2008 car raffle...

16 May 2008

Office Party
It's time to embarass yourself in front of the boss...