Date added: 21 September 2007
Swindon gets stamp of approval
Dorcan sorting office all set for major investment

Swindon is all set to become the biggest sorting office in the UK.

In an announcement today by the Royal Mail, their letter and parcel distribution facilities at Oxford and Reading will close in 2009, and work will transfer to Swindon's Dorcan site.

The new plan is central to Royal Mail's need to modernise its postal operation and to allow it to compete on quality of service and price in the now fully competitive postal market.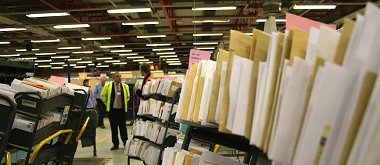 Expansion plans:
the Royal Mail sorting office at Dorcan

"We believe that moving work from Oxford to our extended facility in Swindon, which will be equipped with the latest technologies, will enable us to address an urgent need to improve the reliability of the mail services for our customers in the OX postcode area," explained Michael Devanny, the Area General Manager.
It is understood that Swindon's excellent transport links and redevelopment plans were big factors in the Royal Mail's decision.

Building work to expand the Dorcan office will start as early as next month.
Royal Mail relocation
Bosses reveal why Swindon was their choice for £20 million investment...

18 July 2008