Date added: 18 June 2007
Prospect prospers from company fundraiser
It was a fun mix of golf, gunfire and giving as sixty-five Tithegrove employees and guests spent a day raising money for the Prospect Hospice.

The construction company, which started in 1984, battled the rain and wind during a day at Wrag Barn Golf Club and Barbury Shooting School before donating £6,000 pounds to the Hospice at an evening presentation.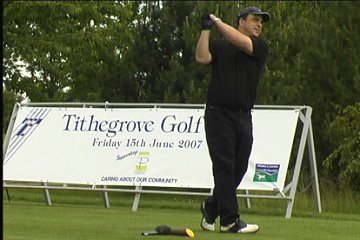 On the tee:


Tithegrove Director Dino Torchia drives off at Wrag Barn

"Tithegrove have always had the philosophy to support local charities," commented Steve Rayson, Managing Director of Tithegrove.

"Today is an opportuninty to express our gratitude to our employees and clients, while raising as much money for a good cause at the same time."

Tithegrove, who are celebrating 23 years of continuous growth this year, have now given in excess of £26,000 pounds to the Hospice and associated charities since their first fundraising efforts in 2000.

A sum much appreciated by those who have benefited.

"We cannot thank Tithegrove enough," said Rebecca Jordan, charity spokesperson for Prospect Hospice, "their continued support over the last 7 years has helped the hospice immensly and we hope to continue this great relationship."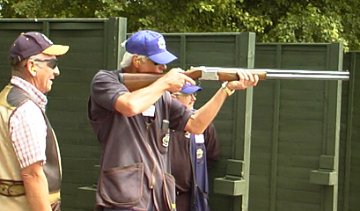 On target:


Steve Rayson, MD for Tithegrove, takes aim at the
Barbury Shooting School
In full swing
Tithegrove not only support local Swindon charities but they also give their full support to local golfer Martin Sell, who recently enjoyed his first win on the Jamega Tour.
Click on the link below to see the full report.

Tithegrove golf day 2007 - 18/06/2007