Date added: 16 May 2007
Major hotel opens its doors in Swindon
It was check-in time for Travelodge in Swindon today.

The company opened its 313th hotel in Princes Street, celebrated by a group of invited guests, including the Mayor of Swindon, business leaders and pupils from Commonweal school.

All of whom gathered around a bed specially placed in reception, while Councillor Bawden cut the ribbon to mark the first official day of trading.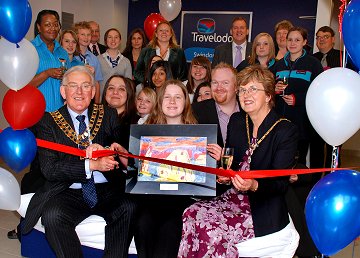 Cutting the ribbon:


perched on a bed, Mayor Mike Bawden,
alongside staff and invited guests, officially opens
the new Travelodgein Princes Street

In advance of the opening, school pupils at Commonweal were set an art project to create paintings that represent Swindon and Wiltshire for hotel guests to view.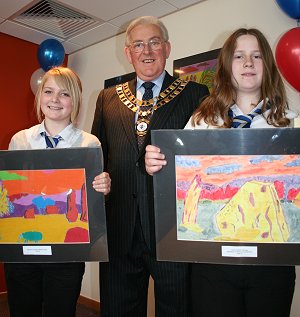 The big picture:


(l to r) Charlotte Barton, runner up,
with Mayor Mike Bawden, and winner

The winning image, a colourful depiction of an Avebury stone, by India Collins-Davis, was chosen by the Mayor and will take pride of place in the main lobby.

As a prize, India was also awarded a two-night stay voucher at any Travelodge in the UK for herself and her family.

Talking about Travelodge's new investment in Swindon, District Manager Daniel Oakford spoke positively of why the company chose the town above other possible locations - and how the potential for tourist trade was a factor.

"It's up-and-coming," he said, "and by investing in Swindon we are recognising the town's potential.


"Not only will the hotel have good transport links, but we hope to bring in business from leisure travellers."
"There's lot to do here already in the area. And it can only get better."
Full details on the new Swindon Travelodge is available via the link below.