Date added: 12 February 2007
Further expansion for Swindon accountancy firm
A new year welcomes a new start for three new members at Monahans, one of Swindon's largest independent firms of Chartered Accountants.

Doug Hall, Nathan Green and Laura Macoustra will all join the company and will take on key roles at their Old Town and Trowbridge offices.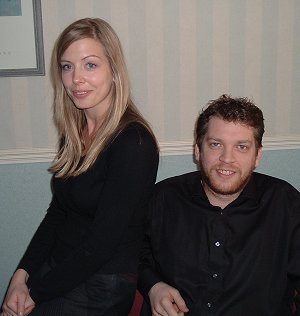 New year - New starters:


Doug Hall and Laura Macoustra
join the Monahans Swindon branch.
"We are extremely pleased to welcome the new employees into the firm," says Peta Fry, Monahnas HR Director, "and we wish them a long and happy career with Monahans."
Doug Hall
- a IT Manager joins the Swindon firm after being self employed for almost 10 years. Doug will be working with the Check-tek, the IT division of Monahans, and will assist with the delivery of a new computer system infrastructure for the business.
Laura Macoustra
- qualified in 2000 from Cardiff University, Laura's new role will be to Assist Peta Fry, Monahans HR Director with the internal HR functions and the development of their HR Consultancy business.
Nathan Green
- joins the Trowbridge team as Monahans Audit Group senior. Nathan's key role will be to perform audits and ensure they meet deadlines whilst delivering excellent service.

Monahans - more information