Date added: 01 January 2007
Honda celebrates a decade of British-built Civics
Honda are celebrating ten years since the first British-built Civic rolled off the assembly line at their Swindon car plant.
Putting Swindon on the map:
Production of the Civic was a major milestone in the plant's history - and the model had tremendous effect on Honda's fortunes in Europe.
During 1995, the first complete year of production, the South Marston plant built 91,200 cars, three quarters of them Civics. In the same year, Civic sales in Europe rose by 30%, while Honda increased its total car business in Britain by a fifth.
Ten years ago the plant employed 1323 associates, building just over 30,000 cars per year. Now, a decade later and with the addition of a second production line, the plant employs 3800 associates building 190,000 cars per year.
Such has been the success of Civic that more than 700,000 have been built over the 10 year period, with more than 60% exported (today Swindon-built Civics are exported to Japan and North America, as well as mainland Europe).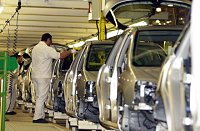 Marston
employs 3800
people
The original "Euro" Civic 5-door was joined by the Civic Aerodeck estate in 1997 - and these two variants went on to achieve 382,000 European sales between them. Then, in 2001, production of the current seventh generation Civic began at Swindon. This too started with a 5-door, before being supplemented by the Civic 3dr and Type-R models from mid 2001.
The seventh generation has seen yet more models added to the range including diesel and 2.0 litre Type S petrol derivatives, while a recent facelift has introduced a raft of technical and cosmetic improvements to sustain the model at the top of the C sector tree.
Here in Britain the locally built Civic is established as Honda's most popular car range accounting for almost half of the company's car sales. The model is also the most widely sold British built compact in this country, with the Civic 3dr the most popular car in its class bar none.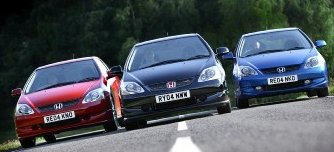 Honda's Civic range:

responsible for half the
Honda Fire
Production resumes after weekend blaze...

25 January 2016

I Predict A R-iot
Kaiser Chiefs frontman Ricky Wilson in Swindon to collect new Honda Civic Type-R - SEE PICTURES

20 August 2015

Honda Task Force
We speak to project leader Jill Annal ahead of the job fair organised for redundant workers...

19 May 2014

Honda Take Stock
340 production workers at Swindon plant face job threat after shift change...

25 March 2014

Honda To Cut 800 Jobs
Downturn in EU sales blamed for shock news today - but is it because the new Civic is (hate to say it) plain 'ugly'? - COMMENT

11 January 2013

Honda Launches CR-V
Big boost for Swindon as Business Secretary praises car plant investment...

07 September 2012

Recovery Starts Here?
New Honda Civic rolls off the production line as 500 new jobs announced...

19 December 2011