Date added: 01 January 2007
Swindon made - in a class of its own!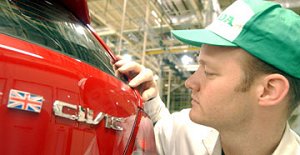 Honda Civic:

Yet another Swindon manufacturing success

Calyx Multimedia

Swindon has once again come out on top when it comes to producing the most popular cars in the UK.

That's the news from British car buyers, who will take delivery of some 35,000 Swindon-built Honda Civics this year.

And that's in the UK's most competitive market sector - the lower-medium hatchback class - to boot? In fact, the Swindon-built hatch reigns supreme, ranking it well above compatriots like the Nissan Almera, Rover 45/MG ZS, Toyota Corolla and Vauxhall Astra, only a small number of which are now built in Britain.

Even ignoring the country of origin, the Civic fares well. The Type-R has become the most prolific genuine high performance hot hatch of all, while the mainstream Civic 3 door is runner up only to the (German and Spanish-built) Ford Focus.

In the 5-door category, the Civic emerges 6th, ahead of the (French-built) Renault Megane and (Spanish-built) SEAT Leon as well as ahead of all other Japanese brands.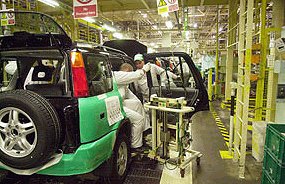 Petrol Head:

Swindon-built CRV's named
as most popular petrol SUV in the UK
Civic isn't the only British Honda success story this year. The Swindon-built CR-V has been dominating the UK's petrol SUV sector with an 11% year-on-year sales rise and is the best selling 5dr petrol in class - though it is just outsold by combined petrol and diesel sales of the Land Rover Freelander.
In production terms, the CR-V is now built in double the numbers of the Freelander and is now the fifth largest produced car in the country. Swindon is on track to build some 120,000 CR-Vs this year.
Finally, the CR-V has become Britain's most popular export vehicle to North America, outnumbering the BMW MINI, Jaguar X-Type and all Land Rover models combined!
Honda Fire
Production resumes after weekend blaze...

25 January 2016

I Predict A R-iot
Kaiser Chiefs frontman Ricky Wilson in Swindon to collect new Honda Civic Type-R - SEE PICTURES

20 August 2015

Honda Task Force
We speak to project leader Jill Annal ahead of the job fair organised for redundant workers...

19 May 2014

Honda Take Stock
340 production workers at Swindon plant face job threat after shift change...

25 March 2014

Honda To Cut 800 Jobs
Downturn in EU sales blamed for shock news today - but is it because the new Civic is (hate to say it) plain 'ugly'? - COMMENT

11 January 2013

Honda Launches CR-V
Big boost for Swindon as Business Secretary praises car plant investment...

07 September 2012

Recovery Starts Here?
New Honda Civic rolls off the production line as 500 new jobs announced...

19 December 2011