Date added: 01 January 2007
Honda set for record British sales year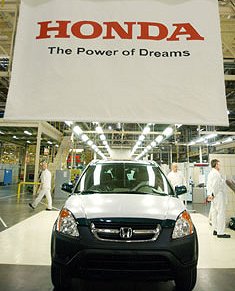 Increased production: Swindon is

set to manufacture around 190,000

Honda Civics and CR-V's in 2004

Calyx Multimedia

Production looks set to be ramped up at Honda's manufacturing plant in Swindon after a record start to the year was announced by the Japanese motor manufacturer.

In 2005 Honda expects to sell about 10% more cars than the 81,858 sold here in Britain last year.

More than half of this total will be locally built here at the Honda of the UK Manufacturing factory at South Marston. The HUM plant builds all of the Civic 3 and 5 door and CR-V models sold here plus models for export to mainland Europe, America and Japan.

In 2004 Honda plans to build around 190,000 cars in Swindon with a near equal split of Civic and CR-V models.

"Several factors have come together this year enabling us to achieve a significant step forward," says Honda (UK)'s General Manager, David Strangeway. "Last year's 'cog' advertisement dramatically increased awareness of the Honda brand, while rave product reviews and top results in recent customer satisfaction surveys - achieved through dealers totally committed to customer satisfaction - have encouraged people to take a closer look at Honda."

Underlining its reputation as one of the fastest growing mainstream car brands, sales for the first quarter have increased 16% year on year, comfortably outperforming the rest of the industry which achieved a 6% increase.

Highlights of Swindon's contribution to Honda's UK success this year to date include:
British built Civic retains popularity, accounting for 40% of the total mix
Civic Type-R remains easily Britain's most popular genuine hot hatch
Civic 3 door leads sector, outselling 3-door petrol versions of the Ford Focus and VW Golf
Civic 5 door currently 4th in 5dr petrol sector (outsold new Golf in March)
CR-V continues to lead petrol SUV sector, virtually matching combined petrol and diesel sales of Land Rover Freelander
Fleet sales see dramatic increase
Cheaper tax bills, lower emissions, strong residuals and its most comprehensive model line-up ever have also pushed Honda's fleet sales to record levels in the first quarter.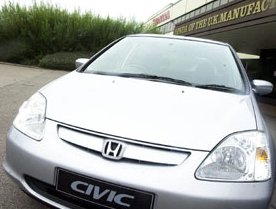 Popular with business users:
the Swindon-built Honda Civic
Fleet sales are up 38% compared with the first three months of 2003, contributing to an all-time record of 29,000 total car sales. Swindon-built product took 55% of the company's fleet sales during the period. Sales to companies in March also rose by over 70% compared to March 03.
"We have enjoyed a tremendous start to the year and the great news is that this is just the beginning," says Honda (UK)'s Head of Corporate Sales, James Daulton.
"The Swindon-built Civic retains its popularity accounting for more than 40% of Honda's fleet sales in the quarter, proving to be particularly strong with urban-based fleet operators. Proving the point, the latest 2004 model year Civic 3 and 5 door petrol models outsold Golf equivalents by 190 units last month," he emphasised.
Meanwhile the CR-V continues to dominate the fleet 5dr 4x4 sector. The model accounted for 43% of all petrol SUV sales in the fleet sector in March, exceeding combined petrol and diesel sales of Land Rover Freelander, Toyota RAV4 and Nissan X-TRAIL during the period.
Honda Fire
Production resumes after weekend blaze...

25 January 2016

I Predict A R-iot
Kaiser Chiefs frontman Ricky Wilson in Swindon to collect new Honda Civic Type-R - SEE PICTURES

20 August 2015

Honda Task Force
We speak to project leader Jill Annal ahead of the job fair organised for redundant workers...

19 May 2014

Honda Take Stock
340 production workers at Swindon plant face job threat after shift change...

25 March 2014

Honda To Cut 800 Jobs
Downturn in EU sales blamed for shock news today - but is it because the new Civic is (hate to say it) plain 'ugly'? - COMMENT

11 January 2013

Honda Launches CR-V
Big boost for Swindon as Business Secretary praises car plant investment...

07 September 2012

Recovery Starts Here?
New Honda Civic rolls off the production line as 500 new jobs announced...

19 December 2011

Last Hurrah for Civic Type-R
This week saw the last of Honda's legendary and hugely successful Civic Type R's coming off the Swindon production line...

28 September 2005