inSwindon BID Set To Continue
Independent management company for Swindon Town Centre will be continuing for a second term
It was announced yesterday (02 February) that inSwindon BID, the independent management company for Swindon Town Centre, will be continuing for a second term after businesses within the town centre voted to renew the Business Improvement District (BID) in a recent ballot.
Businesses within the BIDs geographical area were given the opportunity in which to cast their votes for or against the continuation of inSwindon BID for a further five years from April 2012.
The result was announced earlier today by Swindon Borough Council, who independently collated and verified the returned ballot papers.
Of the businesses who voted, 68% voted in favour of the BID continuing until 2017. This also represented 67% of the aggregate rateable value of the businesses who voted.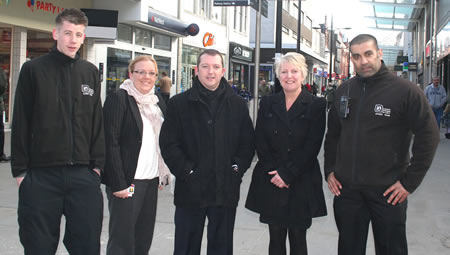 The inSwindon team, L-R: Dean Herbert, Suzy Johnson, Simon Jackson, Rebecca Rowland & Kulv Gopal
Simon Jackson, Chief Executive of inSwindon BID, commented: "The country is in very difficult financial times where many businesses could have sought to reduce cost. It is encouraging to see that Swindon businesses have chosen not to do this, but rather to continue with their investment in the future of the town."
"inSwindon BID will now continue to work hard for the town centre, particularly since we now have an enormous responsibility to demonstrate to those businesses that the right decision was made to take inSwindon BID forward to 2017."

"As a company we are excited about the new businesses coming on board including Jurys Inn and the Travel Lodge. It is an opportunity to really push the fantastic hotels and facilities we have in the town centre and bring new people to Swindon."
Cllr Rod Bluh, leader of Swindon Borough Council, commented: "As a direct result of this 'yes' vote, an added £2.8m worth of investment will be brought into the town between now and 2017. Swindon Borough Council is in full support of the future of inSwindon BID and wishes them every success with the next five years."
"I am confident that the inSwindon BID team are committed to creating an even better Swindon town centre for the future, and will be working closely with all the businesses within the new BID geographical area to ensure that they deliver the business plan commitments."

For more information on inSwindon, please visit their website via the link below.