HR Dept. in Swindon Expands
Employment advisers celebrate the expansion of their business in Swindon
Local employers can now access practical employment advice and support from the recently expanded HR Dept in Swindon, which has grown two-fold in the last year, serving small and medium sized businesses in Swindon and the surrounding areas.
The HR Deptís Peter Jones and his growing team of HR experts specialise in helping small and medium sized employers manage their human resources responsibilities and Ďpeople problemsí.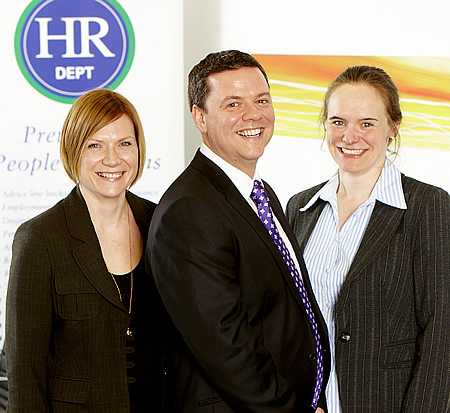 HR Dept. Swindon, L-R:

Rebecca Nicholls, Peter Jones & Emma Briers
They also help local businesses access the levels of expertise and practical support usually reserved for large organisations with in house HR professionals.
Acting as a HR department for SME employers, local HR professionals are on call to provide a full range of local support including an advice line to deal with day-to-day personnel queries and tailored, one to one advice on issues ranging from employment contracts and handbooks, HR policies and procedures, employment law advice to disciplinary and grievance issues.
The growth and expansion is encouraging at a time where businesses of all sizes are facing tough times. Already burdened, employers are plagued by ever-changing legislation and it is recent announcements of the qualifying period to claim unfair dismissal increasing from 1-2 years from April 2012 amongst others that is keeping The HR Dept busy.
Providing HR support for local businesses
Peter Jones comments: "Taking on more staff and growing my business means that more employers have the opportunity to be increasingly proactive in managing their workforce effectively."
"Most small and medium sized businesses donít need a full time HR presence, but do need support with dealing with HR issues that arise when employing either their first member of staff, or their 100th."
Rebecca Nicholls joined the team in April 2011 and Emma Briers started in January 2012.
Peter and his team work with a wide range of clients from transportation companies to architects, from 5 employees to 275 employees, providing a local and personal service that works with and understands the needs of local employers and their organisations.

For more information on the HR Dept., please visit their website via the link below.