Swindon Is Where I Want To Run My Business
Ant Hodges of HodgesNet explains why Swindon is the best place to run your business
Many people will see Swindon as a less attractive place to base a business, compared to other major towns and cities up and down the M4 corridor or the Cotswolds, but one businessman has laid firm foundations in Swindon for his business, singing a different tune to negative perceptions.
Internet marketing company HodgesNet, owned by Swindon advocate Ant Hodges, opened their doors for business back in the summer of 2011 and are finding that Swindon is the right place to be doing business.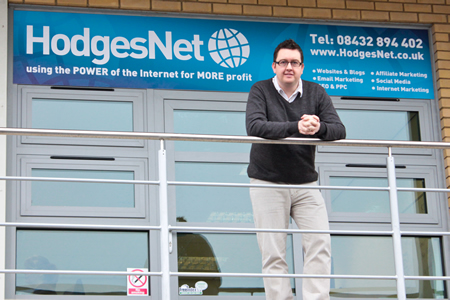 Ant Hodges outside the HodgesNet offices in Swindon
Having previously run a marketing business that closed at the height of the last recession and having also been employed as a Director of an online agency, Ant is not one to be taking something like a downturn in the economy or the incorrect perception of a town to stop him from starting his own business again.
"After my business was closed in 2009, I found things really tough. We lost clients due to marketing budgets being slashed in April 2009 and we could not sustain the full service agency model that we were trying to build." commented Ant.
"Last summer I decided to take the risk and set up HodgesNet, this time choosing to niche and focus purely on Internet marketing. Jumping back in when the economy is still on itís knees was a risk, but one that I am so glad that I took - and Iím thankful I was able to do this in Swindon."
The success of HodgesNet has been a result of two main decisions made by the company.
1 - Basing its offices in Swindon and, 2 - the focused efforts of niching all services within the Internet marketing sector - services such as Pay on Results SEO and low cost online marketing for businesses including social media management and email marketing.
Being based in Swindon, HodgesNet has easy access to transport links right through the Thames valley and into London, the A419 to access the M5 and easy links into towns such as Oxford and Bristol.
It shows that Swindon is the place to be doing business when a selection of HodgesNetís clients include law firm Armstrong James from Reading, audio visual suppliers Smarter Interactive from Aldermaston, training equipment supplier Pinpoint Facilitation from Oxford and wedding planners Love to Plan who are based in Swindon.
"It's a great town. Swindon is where I want to run my business from and it should be a serious consideration for those wanting to look for a central place to base their offices too."
"We have almost instant access to many other towns and cities surrounding Swindon, plus the collaboration with other complimentary businesses is something I love about the business community in Swindon.Ē

For more information on HodgesNet, please visit their website via the link below.