1000th Person Back To Work!
Jackie Kerr Recruitment hits a massive milestone whilst helping others find employment
Jackie Kerr and her team at Jackie Kerr Recruitment had a lot to celebrate last Wednesday evening at the Marriott Hotel in Swindon.
The prize for the 1000th person back to work was given to Iilya Jones who had been out of work for several months. Iilya said "I went to the Job Centre and they offered me a work placement at Jackie Kerr Recruitment. During my time there I gained confidence and obtained a wealth of experience from Jackie and her team. They helped me with my CV, showed me how to sell myself in the best way possible and assisted me with my interview techniques".
"I want to thank Jackie and her team for all the help they have given me," said Ilya. "They really do go out of their way to help Job Seekers".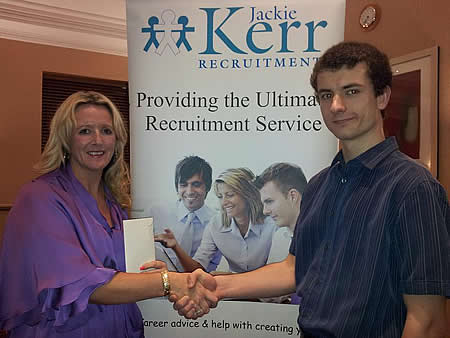 Jackie Kerr (L) & Iilya Jones (R)
Rob Taffinder from Nationwide was there to present him with his prize. The success of the 1000th person back to work has been through Jackie Kerr and her team's hard work in providing the "Back to Work" seminars offering 121 consultations, work experience & career advice at the Jackie Kerr Office in Highworth.
Jackie said she was so pleased with the turn out to the event at the Marriott, "It's a good motivational evening where jobs seekers, employees and client's can meet to Network and help each other by sharing success stories and tips".
Guest speaker, Claire Haines, who has started and grown her own successful Lingerie Business was inspirational as she spoke about life experiences and how to achieve your own success.
You have to be in it to win it
Jackie, gave a motivational talk about overcoming obstacles in the job search said "I am very passionate about recommending to my candidates to offer their services on a Work Experience/unpaid basis. This can be done at any part in your career path to make that step from unemployment to employment an easier transition."
Jackie's motto "you have to be in it to win it" underlines her belief that 95 per cent of Job Seekers find work by Networking and not sat behind a computer applying for jobs.
"If you are offering your services free you will be able to update your CV with current relevant experience you have gained to sell yourself to other employees or better still be approached about the company you are working for and offered a permanent opportunity!"
Jackie has also joined forces with The TAP Assets Partnership who gave a talk on the evening to assist individuals with long term financial planning. Although we run a recruitment service it's all about a package and getting every part of your life in order including Setting Goals, Life Planning and Finances.
On the night there was a free Raffle with prizes including Life Coaching, fitness training sessions and many more. The next 'Back to Work' Seminar is on Wednesday 06 June 2012 at the Marriott Hotel.
For more details of this free event, to book a space or for details on a back to work consultation call 01793 762026 or for the latest Jobs check out their website via the link below.
Just the job!
Jackie Kerr Recruitment celebrates Swindon job-seeking seminar success...

19 July 2010