Date added: 22 November 2012
Scaling New Heights
Kilimanjaro trek inspires Outsource UK boss to consider more adventures - staff included!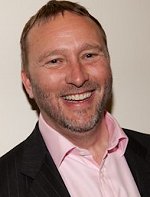 Staff at local recruitment company Outsource UK are quaking in their boots after hearing that their boss's trek to the summit of Kilimanjaro has inspired him to start considering their next company team event.

In September this year MD Paul Jameson, and seven adventurous members of the Outsource team, took on The National Three Peaks challenge raising money for Swindon's Prospect Hospice. But for Paul this was part of a training programme for an even bigger challenge to come, Mount Kilimanjaro in Africa.
Paul, together with friends Andy Saunders and Simon Bristow, embarked on the six-day trek last month, which culminated in a 30-hour trek to reach the summit at sunrise. "It was utterly exhausting" says Paul. "It's a surreal, odd place. Nothing lives, no birds, no moss, no plant life. It's barren. Even the clouds are a long way below you." I took some brandy to the top so that we could celebrate but no one was interested, we were just too exhausted!"
Climbing Kilimanjaro was a long-held ambition for Paul and one he rightly feels proud now to have achieved. In the process he's raised a significant amount of money for charity, £4,330 to date. "I decided to raise money for Action Medical Research" says Paul. "It's a great children's charity and is dedicated to improving the health of babies and children in the UK".
How will Paul top getting to the summit of the highest place in Africa we wonder? "Well there's always Everest, Kilimanjaro is 1500ft higher than Everest base camp". Paul adds. He doesn't appear to be joking.
So Outsource UK team you have been warned. Be careful how you answer the boss when he says …"now who fancies a challenge?"

If you'd like to donate to Action Medical Research, Paul's chosen charity for the Kilimanjaro trek, please visit the website via the link below.
Spotlight On Two Rising Stars
Outsource UK celebrate the achievements of two employees who have been shortlisted for top industry awards...

03 October 2013

'Most Admired Agency'
Outsource UK scoops top accolade at Recruitment International awards...

18 October 2009