Date added: 03 September 2006
Key anniversary for Honda in Swindon
Honda is proudly celebrating 20 years in Swindon.

In August 1986, a decision was made by Honda Motor Co. Ltd in Japan to start investing in the UK with a Pre-Delivery Inspection Facility for Honda cars being sold in Europe - and their South Marston plant was born.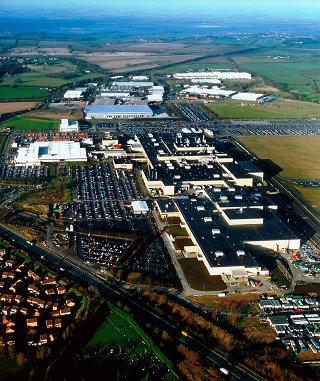 Twenty years in Swindon:


the Honda car plant

Twenty years on, the investment here has topped £1.33 billion, with over 1.5 million cars rolling off the production line bound for the UK market and abroad.

The factory has also been the driving force behind a whole support network of key local suppliers (described by Honda as 'Associates) employing thousands of people in the area as a consequence - a contribution Honda have been keen to recognise.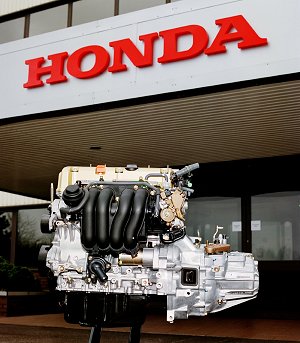 Power plant:


the 2 millionth engine was produced in 2005

Mr Masaaki Kato, Managing Director of Honda of the UK Manufacturing Ltd [HUM] and Executive Vice President of Honda Motor Europe, paid tribute to the plant's success by saying: "HUM has developed into a mature and successful car and engine manufacturing operation, which could not have been achieved without the strong driving force of our dedicated Associates."
Long-term commitment to Swindon

HUM is now the centre of Honda's European Car production, with its fully integrated car and engine plants clearly demonstrate Honda's long-term commitment to Swindon and to British manufacturing - proof that HUM's Associates at the Swindon operation are fully capable of supporting Honda's global activities.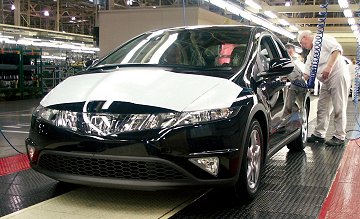 Wordwide success:


the new 06 Civic produced in Swindon is selling in
record numbers both at home and abroad
Producing the award winning Civic 5-door and CR-V, the operation employs over 4,000 Associates in Swindon, including 23 who originally started in 1986.
Honda in Swindon - Key Facts
Honda of the UK Manufacturing Limited is a fully integrated car manufacturing facility, producing the total Car (Engine Casting and Pressing) on the one site in Swindon.

Honda has invested £1.33 billion in its manufacturing operation in Swindon.

75% of the cars produced at Honda of the UK Manufacturing Limited are exported.

In 2005 HUM produced 186,984 units.

Current production level is 885 cars per day.

No 1 line (CR-V and Civic 5-door): 605 units per day (two shifts).

No 2 line (Civic 5-door): 280 units per day (one shift).

Engine: 1000 units per day (two shifts).

Employment: total 4000.

80% of Associates live within a 30 mile radius of the operation.

HUM currently has 250 Tier 1 Suppliers. Although many Suppliers have offices in the UK, manufacturing is conducted all over the world. Most Tier 1 Suppliers are global companies.
Honda in Swindon - Milestones
1985 HUM established

1986 HUM operational - Pre-Delivery Inspection started in South Marston

1989 Engine Plant production begins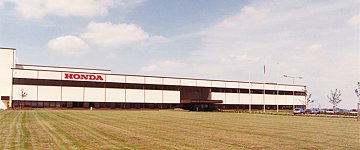 1989: Honda's new engine plant
1992 Car manufacturing starts in No 1 Car Plant
Second Engine Line installed

1995 Press Facility established

1996 10th Operational anniversary 1998 1 millionth engine produced
250,000th Civic

1999 ½ millionth car produced
10th anniversary of engine production
250,000th Accord

2000 CR-V production begins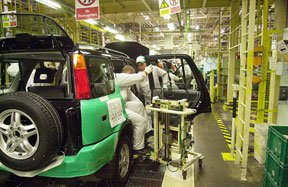 2000:

CRV production starts


© Calyx Multimedia
2001 No 2 Car Plant starts production

Civic Type-R exported to Japan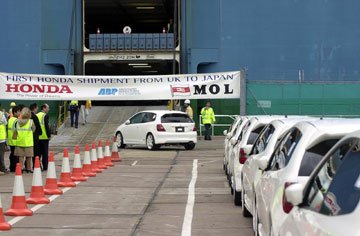 2001: Swindon Honda Civic Type R's exported to Japan


© Calyx Multimedia
2002 CR-V exported to North America
10th anniversary of car production
Press Facility expansion
End of Accord production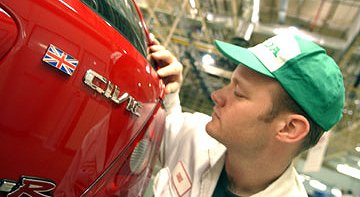 2002: 10th year anniversary of car production


© Calyx Multimedia
2003 1 millionth car produced
1½ millionth engine produced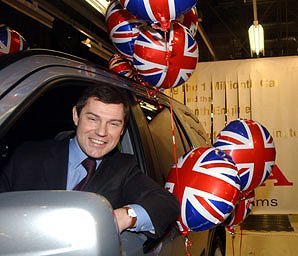 2003: Honda's one millionth car rolls off
Swindon production line


© Calyx Multimedia
2004 250,000th CR-V
15 year anniversary of engine production

2005 2 millionth engine produced
750,000th Civic produced
1½ millionth car produced
Diesel engine assembly begins

2006 06 Civic production begins
HUM 20th Anniversary year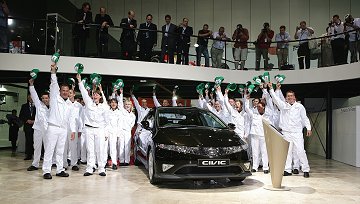 2006: production of the 06 Civic begins

Honda in Swindon - more information
Honda Fire
Production resumes after weekend blaze...

25 January 2016

I Predict A R-iot
Kaiser Chiefs frontman Ricky Wilson in Swindon to collect new Honda Civic Type-R - SEE PICTURES

20 August 2015

Honda Task Force
We speak to project leader Jill Annal ahead of the job fair organised for redundant workers...

19 May 2014

Honda Take Stock
340 production workers at Swindon plant face job threat after shift change...

25 March 2014

Honda To Cut 800 Jobs
Downturn in EU sales blamed for shock news today - but is it because the new Civic is (hate to say it) plain 'ugly'? - COMMENT

11 January 2013

Honda Launches CR-V
Big boost for Swindon as Business Secretary praises car plant investment...

07 September 2012

Recovery Starts Here?
New Honda Civic rolls off the production line as 500 new jobs announced...

19 December 2011

Asimo
Youngsters enjoy the power of robots at Swindon technology workshop...