Date added: 14 August 2006
Monahans Build for the Future with New Mortgage Advice Service
Monahans Financial Services Ltd (MFSL) has extended its portfolio of services for business and personal clients, with a new Mortgage Advice Service.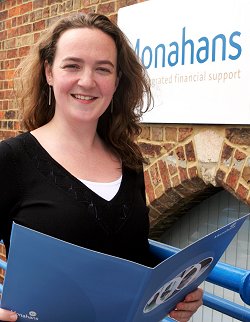 Launching the new service:


Monahan's Juliet Reid
MSFL is a completely independent service, which enables clients to gain an unbiased view of over 61,000 different mortgage combinations from both the high street and specialist lenders.

Working closely with Monahans Chartered Accountants, advice can be given on the best way to structure business and personal borrowing to ensure any tax or interest benefits are maximised.

The Mortgage Advice Service can even help clients to consider whether they are simply paying too much for their existing mortgage, or establish Equity Release Mortgages for those older clients who wish to raise a lump sum or additional income from the value of their property.

"There are so many different types of mortgage from so many lenders it can become a minefield of information to sieve through," said Juliet Reid, will manage the Mortgage Advice Service on behalf of MFSL.

Juliet joined Monahans in March 2004, after leaving Chase de Vere in Bath where she began as an administrator and once qualified, became an Independent Financial Adviser.

IFA's are based at Monahans office in Old Town, Swindon, Trowbridge, Chippenham and Glastonbury.

Monahans - more information