Date added: 07 March 2006
Honda Invests in New Logistics Centre
Honda Logistics Centre (UK) Ltd today opened a new £24 million logistics operation in Swindon, to supply parts to Honda's UK car, motorcycle and power equipment networks.

Employing 106 people, the state-of-the-art centre is adjacent to Honda's UK and European car manufacturing facility where Honda employs 4,000 Associates manufacturing Civic and CR-V models.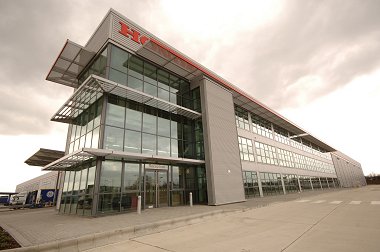 Further investment in Swindon:
the new Honda Logistics Centre

Further to its commitment to car manufacturing in the United Kingdom this new, fully-owned purpose built warehouse confirms Honda's future Logistics and Procurement functions in Swindon.

The land was purchased on 31 March 2005 and in less than 12 months the new 350,000 square foot warehouse and office facility has been completed, including all fitting out and the transfer from the existing premises of complete motorcycle units, power equipment and spare parts for the aftermarket.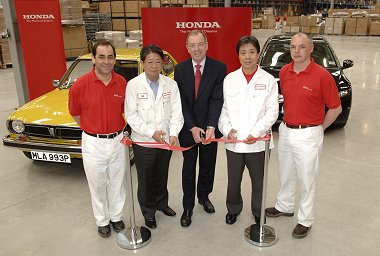 Opening ceremony:

Ray Runza - Director - HLC Mr Kato
- Executive Vice President Honda Motor Europe Ltd and
Managing Director Honda of the UK Manufacturing Ltd.
Bernard Snell - Product Developer - European Liaison
and
Product Trainer (43 years working for Honda)
Mr Ichimi -
President Honda Europe N.V Steve Jackson
The new building provides the 106 Honda associates and its partners with a state of the art facility, including a European Engine Centre sales and training facility.

Additionally the design incorporates all the latest building technologies with particular emphasis on reducing any impact to the environment.
The new logistics centre was designed and built by ProLogis, the largest warehouse developer in Europe, with support from Norwest Holst.
Honda Fire
Production resumes after weekend blaze...

25 January 2016

I Predict A R-iot
Kaiser Chiefs frontman Ricky Wilson in Swindon to collect new Honda Civic Type-R - SEE PICTURES

20 August 2015

Honda Task Force
We speak to project leader Jill Annal ahead of the job fair organised for redundant workers...

19 May 2014

Honda Take Stock
340 production workers at Swindon plant face job threat after shift change...

25 March 2014

Honda To Cut 800 Jobs
Downturn in EU sales blamed for shock news today - but is it because the new Civic is (hate to say it) plain 'ugly'? - COMMENT

11 January 2013

Honda Launches CR-V
Big boost for Swindon as Business Secretary praises car plant investment...

07 September 2012

Recovery Starts Here?
New Honda Civic rolls off the production line as 500 new jobs announced...

19 December 2011

Last Hurrah for Civic Type-R
This week saw the last of Honda's legendary and hugely successful Civic Type R's coming off the Swindon production line...

28 September 2005