Date added: 09 January 2006
New academy proposed for Swindon
A project to build a brand new £50 million pound Academy in Swindon has been launched today...
Set to replace Headlands School as the key educational establishment for Pinehurst, the new Academy will be an all-ability inclusive school for all ages (0-19 years) and will be free to all students.
The plan is a joint partnership between Swindon Borough Council [SBC], the United Learning Trust [ULT], the Department for Education and Skills [DfES] and local car giant Honda.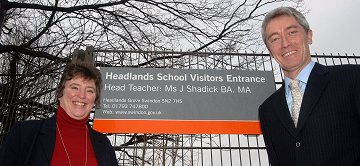 SBC Group Director for Children, Hilary Pitts and ULC
representative David Hanson outside Headlands School
An independant public consultation will now take place to seek the views of local parents, residents, Primary Heads, teachers and other interested parties on the proposal.
Announcing the groundbreaking project, Council leader Mike Bawden said: "The Council is committed to providing high quality education in Swindon. A new Academy will give pupils in Swindon a great new opportunity, and a real link with outstanding business here.
"I am also delighted that the United learning Trust and Honda are on board to sponsor this project."
Regeneration of community
Aimed specifically at areas of disadvantage and replacing schools facing challenging circumstances, a number of Academies have already been established in large towns and cities across the UK including London, Barnsley and Sheffield.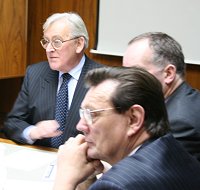 Council leader Mike Bawden (l)
Gary Perkins (foreground)
Many of these have been sponsored by ULT, a subsidiary charity of the not-for-profit charity, the United Church Schools Trust (UCST). Both share the objective of managing schools which offer students a high quality education based on Christian principles of service and tolerance.
"We have a proven track record in education and we want to play a key role in the regeneration of communities. This new Academy will be a focus for learning for pupils, their families and local people," said ULT representative David Hanson.
Pinehurst People's Centre
Initial plans have pointed to the current Headlands School site being too small to house a new Academy, with an area centred around the site presently occupied by the Pinehurst People's Centre cited as a potential alternative.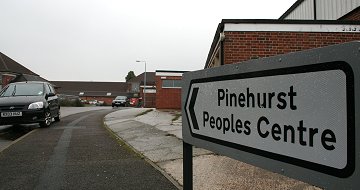 Possible Academy site:

Pinehurst People's Centre
"It's very early days," Garry Perkins, Cabinet Member for Children's Services told us, "but we don't think Headlands School will be big enough."
"Its other disadvantage is its location. We want an Academy more centrally situated in Pinehurst were it will be at the centre of the community, not on the edge of it."
The public consultation process is expected to take 12 months.
Last Hurrah for Civic Type-R
This week saw the last of Honda's legendary and hugely successful Civic Type R's coming off the Swindon production line...

28 September 2005