Date added: 01 January 2006
New Honda Civic set for Swindon
The shape of things to come at the Honda factory in Swindon has been revealed.
To rapturous applause from car critics and the waiting press, the Japanese car giant unveiled their new-look Civic model at the Geneva Motor Show on 2 March 2005.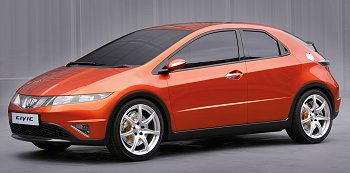 To be built in Swindon:

the new sporty Honda Civic
Designed to be 'sexy', and a departure from previous models, the new Civic is aimed to appeal to a younger market and will be in direct competition with the VW Golf, Audi A3, Ford Focus and BMW 1-series.
And in a massive vote of confidence for Honda's plant at South Marston, Executives confirmed the sporty new model will be built here in Swindon, thereby securing jobs for the 4,000 manufacturing staff.
"Our workforce is doing an exceptional job," said Ken Keir, vice-president of Honda Europe and managing director of Honda UK. "British built is bloody good!"
"The new model underlines our commitment to ensuring that Britain remains at the company's core manufacturing operation for Europe."
Not the only good news, Honda also announced that the Civic's new diesel engine will also be built here.
The 2.2 litre i-CTDi unit has already been acclaimed as the future of diesel automotive power and far more environmentally friendly than other engines currently available.
This, and further investment, will lead to production of cars in Swindon topping 200,000 cars a year for the first time - 120,000 Civics and 80,000 of the CR-V off-roader.
Swindonians will most probably see the first cars on our roads in November, with the first batch destined to be exported to Honda's homeland, Japan, and the US. The new Civic will be available to buy in the UK in January 2006.
The original Civic - 1973:

seen here with Honda
UK's
longest-serving employee, and Highworth
Honda Fire
Production resumes after weekend blaze...

25 January 2016

I Predict A R-iot
Kaiser Chiefs frontman Ricky Wilson in Swindon to collect new Honda Civic Type-R - SEE PICTURES

20 August 2015

Honda Task Force
We speak to project leader Jill Annal ahead of the job fair organised for redundant workers...

19 May 2014

Honda Take Stock
340 production workers at Swindon plant face job threat after shift change...

25 March 2014

Honda To Cut 800 Jobs
Downturn in EU sales blamed for shock news today - but is it because the new Civic is (hate to say it) plain 'ugly'? - COMMENT

11 January 2013

Honda Launches CR-V
Big boost for Swindon as Business Secretary praises car plant investment...

07 September 2012

Recovery Starts Here?
New Honda Civic rolls off the production line as 500 new jobs announced...

19 December 2011

Last Hurrah for Civic Type-R
This week saw the last of Honda's legendary and hugely successful Civic Type R's coming off the Swindon production line...

28 September 2005