Date added: 19 January 2006
Dot Com Millionaire Targeted by Hackers
Set-back for Million Dollar Homepage

Many felt it was too good to be true, and it nearly was for web millionaire Alex Tew.

When the 21 year-old Cricklade resident announced he had made over a million dollars from his simple but inspired 'Million Dollar Homepage', he was the most talked about entrepreneur in the land.

But unfortunately for Alex, the overwhelming amount of publicity he attracted brought about the unwanted attention of hackers.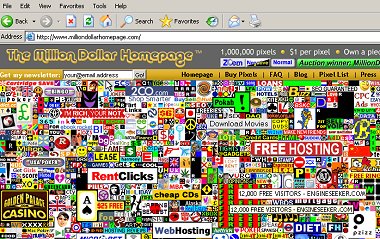 the Million Dollar homepage
On January 7 Alex received an email from extortionists threatening to bombard the site with data unless he paid a $5,000 dollar ransom.

After Alex ignored the threats, the site soon went down and Alex received further threats upping the ransom to $50,000 dollars.

The Wiltshire Constabulary's Hi-Tech Crime Unit were notified the problem, as were the FBI, and it was suggested that the threat came from Russia.

But after causing the local lad some anxiety, the solution seems to have been solved by a US-based company called DDoSprotection.com. Experts in dealing with such attacks, they are filtering all traffic to the site in exchange for.... you've guessed it - free advertising space on the world-famous website.

Although Alex has made the maximum amount of money on the site by selling all the allocated space, the contract stipulated that advertisers' logos would remain online for at least five years.

So how did Alex make his million?....

We all dream of coming up with that one idea or invention that will make us a million... fashionable footwear that's also comfy; a computer that responds to verbal abuse and intimidation; a chat-up line that actually works…

21 year-old Alex Tew turned that dream into reality and has become a dollar millionaire with a masterplan that has provoked many a jealous entrepreneur to ask 'Why didn't I think of that?'

It all started when Alex was contemplating ways to get through his three years at Nottingham University without eating further into his overdraft.

It's the point most students turn to bar work, shelf stacking, or learn to like the taste of economy baked beans.

But having served his supermarket sentence at Tesco working for £5 an hour during his college days Alex had bigger plans and started by writing a simple question on his notepad: 'How do I become a millionaire?'

Twenty minutes later, he'd drawn up a simple but ingenious plan that has seen the Business Management student raise over £4,000 a day while he sits back safe in the knowledge he'll never have to worry about student debt again.

Like all good plans it started with blank canvas, in this case an internet homepage.

Alex decided that if he could sell advertising space for a dollar a pixel, with the minimum purchase being $100 for a 10x10 pixel square, he could potentially fill $1 million dollars worth of space. By clicking on the sold space, readers would be taken directly to the companies' websites.

And so the Million Dollar Homepage - a domain he bought for £50 - was born.

But the problem would be convincing potential buyers that people would actually look there. So after selling the first few blocks to friends and relatives Alex used the money to publicise the site through the media as much as he possibly could, even employing a press officer in the US.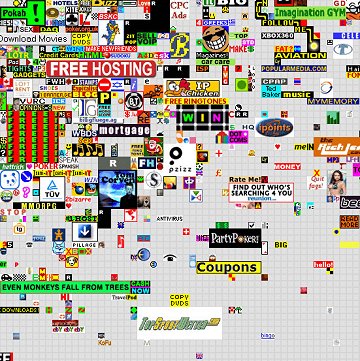 Alex sold the first pixel in August 2005,

The rest, as they say is history. With the huge amount of media interest the page has attracted, few companies would regret their investment that has made them part of a corporate collage fast becoming etched in internet history.

The proof being in the pudding, Alex sold the final 1,000 on eBay in January 2006 for the princely sum of $38,100 (£21,593), nearly 40 times over the odds!

While the page will stay on the internet in its completed form for five years, it's now time for Alex to move on. Already receiving lucrative job offers from major firms, Alex's future holds endless opportunities and he has decided to defer his place at university until September.

In the meantime, he might even spend a dollar or two.
Alex Tew
What ever happened to Swindon's dot com millionaire?...

11 May 2009