Date added: 22 November 2013
Women Celebrate First Anniversary of New Business Club
I Am Woman proves a big success in Swindon
Forty ladies from Swindon and Wiltshire attended the first anniversary celebration of I Am Woman Swindon – a business club set up to support and empower women in business.
Meeting at the Marsh Farm Hotel in Royal Wootton Bassett, guests toasted the success of a year in which membership has gone from just a handful of women to more than 40 in its inaugural year.
I Am Woman is a franchise operation which started over two years ago in South Wales and the Swindon club was the second of its kind in the UK.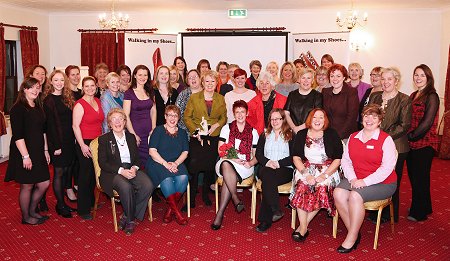 I Am Woman Business Club Swindon
There's now a third group in Cheltenham with plans to start several more in 2014.
Elaine Godley is the franchise director for I Am Woman Swindon: "It was a fantastic evening where we celebrated, enjoyed each other's company but also got down to business."
Among the members at the event was Alison Cross-Jones, who has set up a charity HEALS in Malmesbury to help vulnerable people in the community including those with learning difficulties. The charity is now launching nationwide.
"IAW has literally changed my life and is helping me to change the lives of others," she said. Another guest was accountant Steph Rickaby, of Sunflower Accounts Ltd.
"I Am Woman has helped me build the most amazing, supportive, encouraging relationships with fantastic women. Every meeting is so much fun."
Speakers for the evening included Margaret Carter, who runs Patchwork Pate, a company which has gone from her kitchen table to a £2.2m turnover with a purpose-built factory employing more than 20 staff.
She shared her story of being a single mum with three children trying to find her way in the business world. Other speakers included Jackie Dunn, of Mindset Matters, and communication coach Akasha Lonsdale, who lives in Wiltshire, and is a published author.
I Am Woman meetings are held ten times a year as well as offering its members free workshops and mentoring.
Details can be found via the link below.