New Business Networking Group Tees Off!
Wiltshire Business of the Year Pebley Beach teams up with other local companies to drive business growth on the golf course
It is often said that more business deals are struck on a golf course than at any other venue, and that's an adage that looks set to continue with the creation of the Swindon and District Golf and Business Networking Group.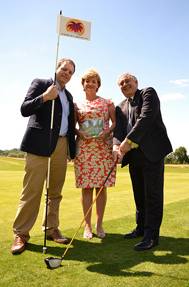 Dominic Threlfall, Barry Wicks
and Juliette Nutland of the
Swindon and District Golf and
Recent award-winners Pebley Beach (see related article below) have teamed up with Maroubra Personal Development and Basset Down Golf Course, to provide a twice monthly group that offers its members networking and presentations over a round of golf and a breakfast or lunch.
If you aren't the next Rory McIlroy that's not a problem, as golfing tutition can also be provided by the clubs resident PGA Professionals Ian Bolt and Michael Walters who have over 60 years of teaching experience between them.
Dom, a golfing novice, said: "The attraction for me is the ability to learn the game while I do business.

"I've always known a lot of deals are struck on the golf course, but not being able to play has always been a barrier for me. Now that barrier is gone."
For more information about Swindon and District Golf and Business Networking Group, please email Company Director Barry Wicks at
barry@maroubra.co.uk
. For information about Basset Down Golf Club please visit the official website via the link below.
The Best in the UK
Pebley Beach Hyundai awarded franchised Garage of the Year after voting by consumers...

17 July 2014