Date added: 01 December 2008
Honda announce voluntary schemes
More unsettling job news for Swindon car workers
Honda has announced today that they plan to reduce their Swindon workforce through a choice of voluntary schemes.
Workers this morning were told that two programmes will be offered to all staff - an Associate Release Scheme (ARP), where employees can leave the company with a lump sum which exceeds the minimum statutory redundancy payment - or take a 6 month sabbatical, with the option to return to work.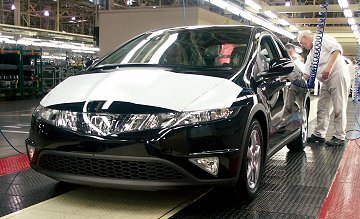 Honda have announced today's plans in response
to what they describe as "uncertain times"

The news comes on the day, local Honda supplier SDC is making 135 permanent workers and 100 agency staff redundant in the wake of the car giant's decision to shut down Swindon car production completely for 50 days early next year.
Last week, Honda seat supplier TS Tech announced they were in negotiations with their employees to make a similiar move.
Hello Jenson?
Is the F1 champ heading for Swindon? (well, there's no speed cameras) ...

21 November 2009

Beat the recession
New College host open evening which offers advice on surviving the crunch...

09 March 2009

Bye bye Button
No more F1 thrills and spills in Swindon, then eh?...

05 December 2008