Date added: 21 November 2008
Honda production comes to a halt
Swindon car manufacture will close its doors for 50 days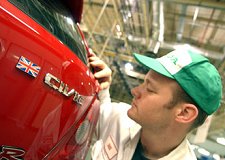 Honda announces shutdown
for 50 days
Honda announced today that they plan to put a halt to their car production due to a dramatic change in the global automobile market.
The Swindon plant is stopping all vehicle production for 50 days -between Febuary and March 2009 - meaning 21,000 fewer vehicles will be made.
The factory confirmed the news did not mean that there were plans for redundancies, although it is thought those workers on temporary contracts and those working for companies sub-contracting to Honda will be those severely hit.

The total automobile production in the U.K. plant for the current fiscal year, which was originally announced as 228,000 units at the beginning of the fiscal year, will now be adjusted to 175,000 units.
Honda's move follows news that BMW in Swindon have announced an extended Christmas lay-off for all its workers starting on the 07 December for three weeks.
Hello Jenson?
Is the F1 champ heading for Swindon? (well, there's no speed cameras) ...

21 November 2009

Beat the recession
New College host open evening which offers advice on surviving the crunch...

09 March 2009

Bye bye Button
No more F1 thrills and spills in Swindon, then eh?...

05 December 2008