Date added: 27 November 2008
Regenerating Swindon
Plans get moving on empty town centre sites off Fleming Way
Swindon's regeneration has taken another significant step forward today ­with the signing of a multi-million pound property deal­ which, according to developers, will 'breathe new life into the town centre'.

Muse Developments has ­signed a formal Development Agreement to deliver Union Square, a £350 million ­mixed-use development­ on the site between the railway station and the town centre (on the site formerly the old post office and the police station).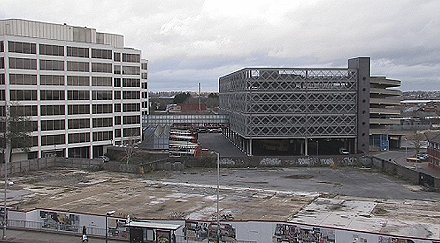 (above) the Union Square site (formally the old post office) and below, an artist impression of how the development may look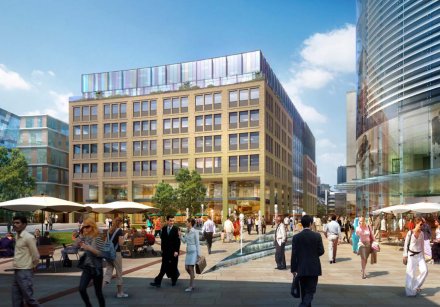 Union Square is seen as a flagship regeneration project for the town centre and will provide up to 160,000 sq m of high quality new offices and new homes when completed.
Key aims of the project include:
- carefully planned traffic management, making walking and cycling safer and more enjoyable
- convenient links between Union Square, the railway station and the town centre shopping area.
- provision of walkable streets and attractive new open public spaces · a new and improved bus interchange
- a new facility for the Primary Care Trust
- high quality car parking in a new multi-storey car park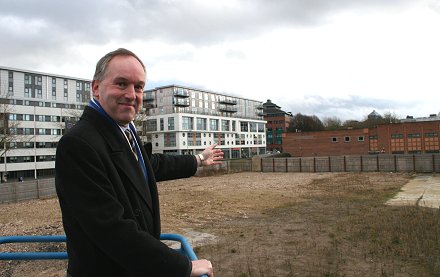 Swindon Borough Council leader Rod Bluh
in front of the former police station hq site in Flewing Way

"Following the recent announcement of plans by Modus Properties to develop Regent Place, a £215 million retail led scheme, Swindon is clearly bucking the current trend of economic gloom," commented Council Leader Rod Bluh

"Together, these two developments represent more than half a billion pounds of investment towards the regeneration of Swindon."
Words echoed by New Swindon Chief Executive Peter James.

"We are delighted to announce the completion of a Development Agreement with Muse and the beginning of such a significant regeneration project," Mr James added.
"Swindon is rising above the current economic gloom – the town has absolutely massive potential and this flagship project will help us to reach it."
Swindon 2012?
£200 million pound regeneration deal signed and sealed...