Date added: 21 October 2008
'Cool' honour for Swindon store
Bang & Olufsen recognised as the trendy place to shop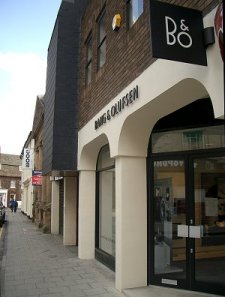 Bang & Olufsen of Swindon has emerged as the town's 'coolest' high street store following a survey by an influential trend-monitoring agency.

The showroom, in Wood Street, Old Town, is Swindon's only stockist of audiovisual products by Bang & Olufsen, which has been named one of the UK's top five coolest brands for the second year running by the Superbrands consumer group.

Only Aston Martin, iPhone and Apple were rated higher than Bang & Olufsen by the expert panel, who considered more than 10,000 brands in total.

The distinctive Danish brand finished further up the 2008-2009 Coolbrands list than fashionable names such as Rolex, Ferrari and Dom Perignon.
Gordon Harker dealer Principal of Bang & Olufsen Swindon
"Swindon has a lot of very trendy, aspirational shops so it's very flattering that, in effect, we're considered to be the coolest," commented dealer Principal Gordon Harker.
"Our products continue to set new standards in the design and performance of home entertainment technology."
Recent launches which have kept Bang & Olufsen's profile high include: the BeoVision 4 home cinema screen, with a built-in camera to check colour quality, a mobile telephone shaped like a pebble and a space-age remote control capable of operating various electronic appliances around the home.
The Wombles are back!
Bang & Olufsen's Gordon Harker and friends return from The Ramshackle Rally...

21 August 2008