Date added: 28 October 2008
Honda on the right track for exports
Swindon car giant unveil new rail link
Honda swapped the road for rail today as they unveiled their brand new export facility.
A new rail terminal that will transport around 23,000 vehicles each year from their Swindon factory to the Channel Tunnel.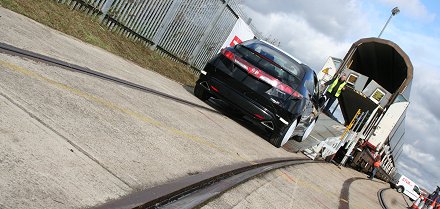 Civics are loaded onto a rail transporter at the new Honda terminal
An investment that which according to Honda will mean 3,000 fewer car transporters on the roads - and significantly cut local CO2 emissions.
"Honda's commitment to transporting Swindon built Civic and CRV's by rail, using the new Keypoint Swindon Terminal, is to be commended," commented Transport Minister Andrew Adonis, who officially opened the new facility today.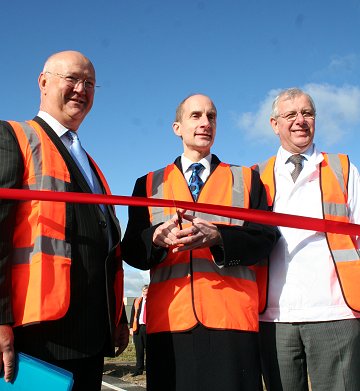 (l to r) Colin Banyard, Chairman of Kilbride Group Ltd,
Lord Adonis, Transport Minister and
Ken Kier, Senior Vice President of Honda Motor Europe Ltd
The new terminal will allow Honda to export cars from their Swindon plant to their European logistic centre in Gent, Belgium, and has been developed jointly between the company and rail infrastructure experts The Kilbride Group.
Up to two trains will run a week from the terminal with each consignment carrying over 200 cars.
"This is a positive move for Honda. It's a big impact on CO2 and 3,000 trucks off the road. It's fantastic," said Ken Kier, Senior Vice President of Honda Motor Europe Ltd.
Today's launch comes after news this week that Honda wll be cutting production at their Swindon factory due to the economic downturn.
The reduction will take place in the first quarter of 2009, when output will be decreased by aproximately 10,000 units.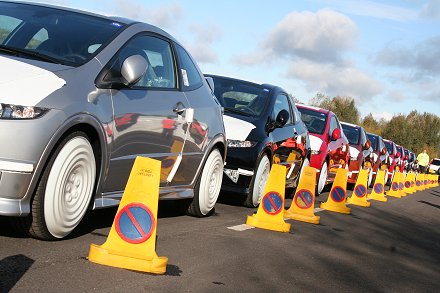 the build-rate of Honda Civics is being cut in 2009
The car giant currently has no plans to reduce its work force - approximately 5,000 associates in Swindon - as a consequence.
Honda confirmed earlier this month that the Jazz model will be made in Swindon from autumn 2009 onwards.

Honda on the right track for exports - 28/10/2008
Honda Fire
Production resumes after weekend blaze...

25 January 2016

I Predict A R-iot
Kaiser Chiefs frontman Ricky Wilson in Swindon to collect new Honda Civic Type-R - SEE PICTURES

20 August 2015

Honda Task Force
We speak to project leader Jill Annal ahead of the job fair organised for redundant workers...

19 May 2014

Honda Take Stock
340 production workers at Swindon plant face job threat after shift change...

25 March 2014

Honda To Cut 800 Jobs
Downturn in EU sales blamed for shock news today - but is it because the new Civic is (hate to say it) plain 'ugly'? - COMMENT

11 January 2013

Honda Launches CR-V
Big boost for Swindon as Business Secretary praises car plant investment...

07 September 2012

Recovery Starts Here?
New Honda Civic rolls off the production line as 500 new jobs announced...

19 December 2011

Asimo
Youngsters enjoy the power of robots at Swindon technology workshop...