Date added: 24 September 2008
Music is the best medicine!
Swindon's hospital radio station is welcomed to its new home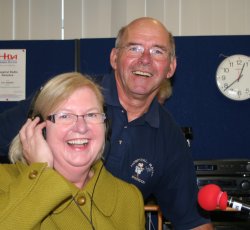 Lyn Hill-Tout and Phillip Wheeler at
the Hospital Radio launch
It was a dose of the best medicine today, as the Great Western Hospital welcomed Hospital Radio Swindon to its premises for the first time in 50 years!
Opened by chief executive of the hospital trust Lyn Hill-Tout, and chair of hospital radio Arthur Perkins, patients and staff will now be entertained by live music from its new home in the hospital.
"We're so pleased to finally welcome Hospital Radio Swindon to the hospital," commented Lyn.
"Being on site enables them to intergrate more with the patients and the staff and we really appreciate the work they do for us."
Hospital Radio Swindon picture gallery


Fancy a Pop Quiz?
In aid of Swindon Hospital Radio, with some big celebrity prizes - THIS WEDNESDAY...

24 October 2009