Date added: 25 September 2008
Jazzin' it up in Swindon!
Honda Jazz to join production line with Civic and CR-V
Thousands of Honda workers in Swindon have been assured there will be no job losses during this difficult economic period, with news that the Honda Jazz will soon be built here.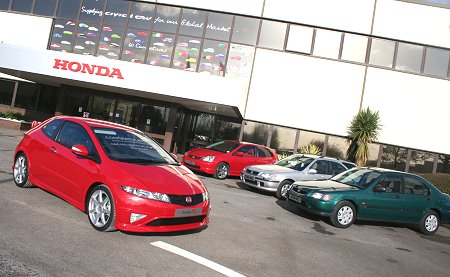 the Honda plant in South Marston,
which will soon produce the new Honda Jazz
Production at the car manufacturer's plant in South Marston is expected to begin late next year - with the Jazz set to complement the CR-V and Civic models already built here.
David Hodgetts, Director at HUM, said: "We are extremely pleased to announce production of the new Jazz at our operation in Swindon.
"We are looking forward to the challenge of introducing a brand new small car into mass production in 2009 which will increase our total overall volume.
"In the short term we are facing a difficult period but there will be no job losses. We have an extremely strong and flexible workforce who will continue to manufacture top quality cars for our customers."
Honda Fire
Production resumes after weekend blaze...

25 January 2016

I Predict A R-iot
Kaiser Chiefs frontman Ricky Wilson in Swindon to collect new Honda Civic Type-R - SEE PICTURES

20 August 2015

Honda Task Force
We speak to project leader Jill Annal ahead of the job fair organised for redundant workers...

19 May 2014

Honda Take Stock
340 production workers at Swindon plant face job threat after shift change...

25 March 2014

Honda To Cut 800 Jobs
Downturn in EU sales blamed for shock news today - but is it because the new Civic is (hate to say it) plain 'ugly'? - COMMENT

11 January 2013

Honda Launches CR-V
Big boost for Swindon as Business Secretary praises car plant investment...

07 September 2012

Recovery Starts Here?
New Honda Civic rolls off the production line as 500 new jobs announced...

19 December 2011

Asimo
Youngsters enjoy the power of robots at Swindon technology workshop...

Last Hurrah for Civic Type-R
This week saw the last of Honda's legendary and hugely successful Civic Type R's coming off the Swindon production line...

28 September 2005