Date added: 06 August 2008
Record Low
Nationwide give bleak outlook on the economy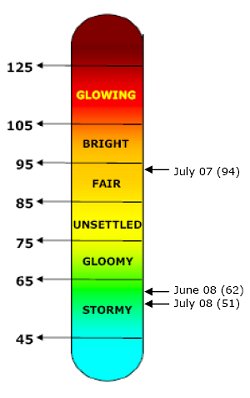 Try and look on the bright side:
the Nationwide Confidence Barometer
Forget the weather, it's the economy that's looking stormy according to Swindon-based Nationwide.
The building society reported its monthly consumer confidence index recorded its biggest ever fall in July - and is 46% down on a year ago.
As just for good measure the building society have produced a 'consumer confidence baramoter' (see right) to graphically tell us just how bad things are.
"Talk of the increasing chance of recession, more weakening in the housing market and the continuing rise in food and energy bills have all dented confidence," commented Nationwide's chief economist Fionnuala Early.
The Nationwide survey also showed consumers are not expecting the economic climate to improve over the next six months, with the expectations index down 10 points to 55.