Date added: 19 August 2008
It's another Mini Adventure!
Swindon Mini revs up at the Beijing Olympics
SwindonWeb have been fixated with the Olympic games ever since they started two weeks ago - especially with Swindon-born rower
Stephen Rowbotham taking bronze in the men's double sculls.
But Stephen's not our only connection to Beijing.
The Mini Pressings Plant in Swindon have helped send a special gift to China's capital - in the form of a specially-made Mini Rickshaw.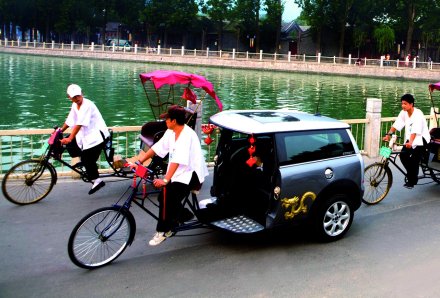 The Mini Rickshaw on the road in Beijing
Taking locals and visitors to the games, the unusual mix of bicycle and Mini Clubman has been seen in all the trendy areas of Beijing.
And what's more - the emission-free vehicle has been promoting a more economic mode of travel.
Authentic Chinese lucky charms hanging in the vehicle are said to bring the passenger luck - and of course, to release positive energy for the Olympic games.
And it looks like the luck is working in Great Britain's favour.
Pain from Spain!
Hauliers strike halts production at BMW Plant Swindon...

13 June 2008