Date added: 21 August 2008
Flying high!
Arval employee to represent UK at World Air Games
We all dream of becoming high-flyers, but for one Swindon man that dream is well within his reach.
Nick Simmons, a Systems Analyst at the Swindon-based fleet and fuel management giant Arval, is going for the title of World Champion when he competes in the World Air Games next year.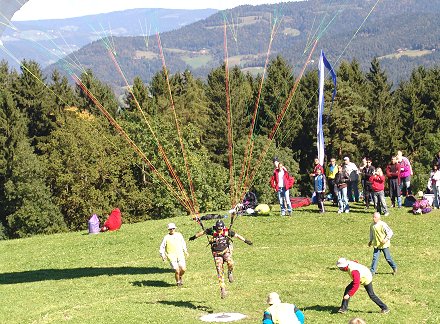 Arval employee Nick Simmons in action
And this week he has been in Italy to take on 20 other pilots, in preparation for the world's most important sporting aviation competition, which takes place every four years.
His chosen event is Paragliding Accuracy, which involves paragliding from a height of around 2,000 feet, and landing on a large floating target.
Nick said: "This year I have been trying to compete in as many of the 2008 Accuracy competitions as is practical and appreciate the support that Arval has provided.
"This is a great opportunity for me to pit myself against the best pilots from around the world and one that I want to do my best at."