Date added: 21 July 2008
'New' management for Bang & Olufsen
Old face returns to popular Wood Street retailer
One of Swindonís most prestigious businesses is now under Ďoldí management.
Gordon Harker has returned to run Bang & Olufsen of Swindon after almost a year away running the world-famous Danish audiovisual brandís dealership in Salisbury.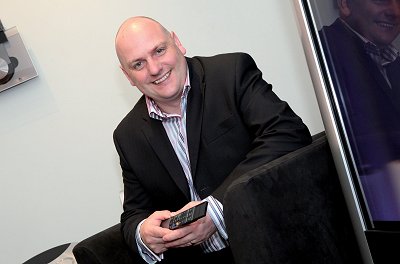 Bang & Olufsen manager Gordon Harker
Gordon said: ďItís great to be back in a town thatís my home and Iím looking forward to meeting up with old customers and friends again.Ē

Gordon was the manager of the Wood Street, Old Town, dealership for four years before he moved to Bang & Olufsen of Salisbury as Dealer Principal.

Prior to working for Bang & Olufsen he ran a corporate entertainment and conference hire company in Swindon.

Now Gordon, originally from Middlesbrough, has bought the Swindon audiovisual specialist and is making plans for a special party night at the store to celebrate his homecoming with customers.
The Wombles are back!
Bang & Olufsen's Gordon Harker and friends return from The Ramshackle Rally...

21 August 2008