Date added: 23 July 2008
Bobbies on the... bike!
Wiltshire police saddle up for charity
Bobbies on the beat are a familiar sight around the town centre, but if you were out and about today you would've seen something a little bit different.
Wiltshire's Deputy Chief Constable Stephen Long, who is taking part in a 220-mile sponsored bike ride as a last gesture before he retires after 30 years' service to the Police force, took a break in the town centre.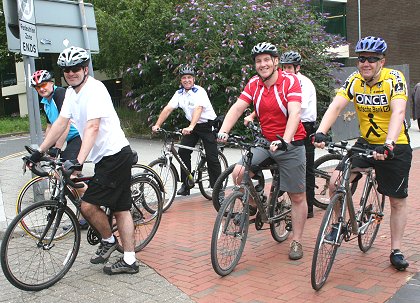 Wiltshire's Deputy Chief Constable
Stephen Long
leads his colleagues on their
stint from
the town centre to Westlea
With 90 scheduled stops across neighbourhood policing areas in the county, he is hoping to raise £10,000 in sponsorship over the three-day event - with all proceeds going to Crimebeat and other charities that help victims of domestic violence.
And this afternoon he stopped off at Wharf Green to collect cheques from inSwindon, The Brunel Centre and The New Swindon Company - who have all donated £100.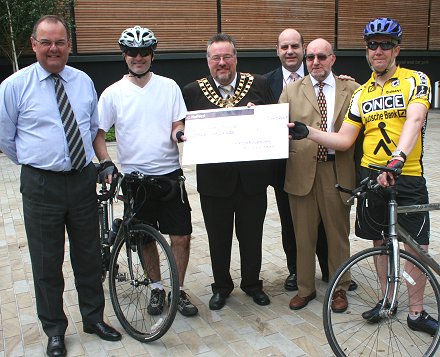 Brunel Centre Director Nick Beaumont-Jones and
inSwindon's Mark Ross and Bernie Maguire present

Deputy Chief Constable Stephen Long with a cheque for their donations
Bernie Maguire, inSwindon's Company Operations Director, told us: "It's a great cause, so we are happy to have been involved.
"inSwindon's relationship with the police is all about partnership work,
and we're supporting the police with their cause, because they support ours."