Date added: 19 June 2008
Charity starts at home - or work!
Flexspace raise money for Prospect Hospice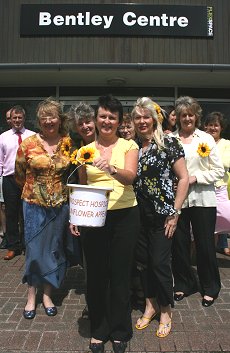 companies at the Bentley Centre
dig deep for the Prospect Hospice
Swindon-based charity Prospect Hospice are urging people across the town to dig deep during
Hospice Awareness Month - and companies at the Bentley Centre are doing just that.
Flexspace, the company who run the Shrivenham Road offices, decided to run a collection and raffle - even urging employees based there to wear yellow.
Staff from Structa, VMCL, Total Business Solutions, Apotheosys Ltd, Clarity Copier, WSUN - and of course, SwindonWeb - all got involved.
Lesley Golsby, of Flexspace, said: "We decided to support the Prospect Hospice during their Sunflower Week because they are a local charity, and it's a great cause.
"We just want people to have a bit of fun really!"
For more information, visit their website via the link below.
Dazed and Confused
All-day gig helps raise £300 for Prosect Hospice - see gallery!...

18 June 2008