Date added: 09 May 2008
Launch of Swindon Media Group
Exciting new networking opportunity for media in Swindon
Media organisations and individuals across Swindon now have somewhere they can share ideas, experiences, and expertise - through the Swindon Media Group.
With the latest stage launched this week, professionals across the town met to discuss the opportunities available locally.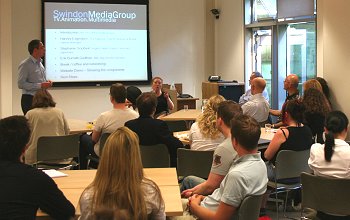 Peter Snowman shares his ideas
for the Swindon Media Group
Guest speakers included Swindon Film Festival director Peter Snowman, the National Trust's broadcast and media liaison manager Harvey Edginton, and BBC Big Screen community producer Erik Burnett-Gofree.
Swindon Media Group co-ordinator, Steve Causer, said: "There is a vibrant media sector in Swindon, many of the organisations and individuals working all over the world.
"What the Media Group can and will be looking to do is engage with as many as possible to see not only how the sector can be supported but also how each one of the companies can be involved with the rest of the group."
The group's official website - designed by SwindonWeb's sister company, SwindonWeb Design Ltd - is set to go live at the end of this month, and with so much media talent in Swindon (we're not biased, honest), the group is set to be a roaring success.