Date added: 09 May 2008
He's off, but he's not bitter!
Arkell's finance director retires after 34 years
Ray Fisher rings the final bell
If someone told you they'd spent a third of a century in a brewery, you'd probably be a bit concerned.
But for Arkell's finance
director, Ray Fisher, today was a momentous occasion.
After 34 years of hard work and dedication, he rang time
on his career with the Swindon-based brewery.
And boy did they give him a good send-off!
Four generations of the Arkell family were on hand to wave him off, and of course, the beer was flowing.
James Arkell said: "Ray came to work at Arkells in 1974, first as accountant, then as company secretary, although it's such a long time ago none of us can really remember.
"What is important, however, is that he was the first non-Arkell family member to become a full member of the Board because we thought so much of him - and still do."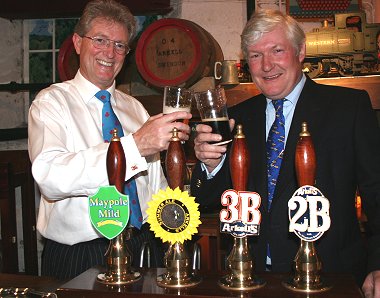 Cheers for all the hard work!:


James Arkell (right) offers his thanks to Ray Fisher
as he retires after 34 years with the brewery
62-year-old Ray said: "It's been an absolutely great career and wonderful fun - it is simply oner of the best jobs to have as an accountant - because of course I've had to regularly sample the product!
"Whilst 34 years seems a very long time, it's certainly not unusual at Arkell's where if you're lucky enough to work here, you do tend to stay."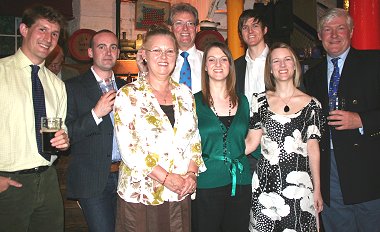 James Arkell (far right) and son George (far left)
with Ray Fisher (centre),
Ray's wife Christine, and their children
Aside from Arkell's, Ray is involved in a lot of charity work, was Mayor of Swindon in 2005, and was recently re-elected as councillor for Stratton ward.
Retiring a few years early, Ray is looking forward to spending time with his wife Christine, four children, and three grandchildren - and plans to have a few pints of 3B in celebration.